Apparently even a hernia operation couldn't keep Madonna from her beloved "Kabbalah Centre." Two days after a surgical procedure, which left the star "pale" with "no appetite," she nevertheless showed up at the door of the Kabbalah Centre in Los Angeles reported E Online.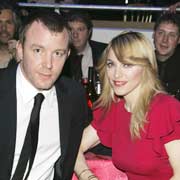 Rumors continue that the pop queen's marriage to film director Guy Ritchie is on the rocks.
The two managed to weigh in for a brief, but it appears rather strained appearance, at the Brits Awards this week in London.
Almost a no show, Ritchie clocked just 30-minutes at the awards ceremony, where his wife picked up a Brit for "Best International Female."
The two appeared somewhat cold and indifferent to each other. And in her acceptance speech Madonna thanked everyone but her husband reported Sky Showbiz.
Ritchie had no smiles for the camera and had lost his beard, which many of the men tied to the Kabbalah Centre seem to favor. Was this a visible sign of his newfound independence?
Elton John is supposedly offering the pair marriage advice.
"Elton and I have spoken to Madonna plenty of times lately. She and Guy are close friends of ours," said David Furnish the long-time partner of the rock star reports Life Style News.
Maybe Sir Elton and his mate should talk to the troubled two about the Kabbalah Centre?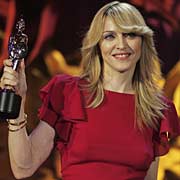 It seems that whatever spiritual guidance and influence the organization and its teachers have provided Madonna with it hasn't done much good for the 47-year-old diva's second marriage.
News also surfaced that the former "Material Girl" may leave England without Ritchie. "She thinks an extended break will do them…good" a source told The People newspaper reports Stuff online adding, "She feels like she is living in a goldfish bowl in Britain."
However, the "Kabbalah" bowl the star insists upon swimming in appears to be a problem for her husband. And addressing that issue may require more than a simple geographical solution.
Perhaps if Madonna invested more time in her marriage and less time in the controversial group things might just get better. That likely would not sit well with her "Kabbalistic" handlers, but it may help her five-year marriage survive.