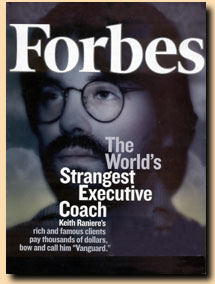 Keith Raniere founder of NXIVM (pronounced nexium like the "purple pill" for acid reflux) had perhaps his worst day in court since the collapse of his multi-level marketing company Consumer Buyline.
The bad news came, for the man who insists that his followers call him "Vanguard," within a US District Court, in New Jersey on Tuesday last week.
The Hon. Mark Falk, U.S.M.J. ordered that a lawsuit filed by Raniere against the Ross Institute (sponsor of CultNews) and Rick Ross (author of CultNews) be amended, making "Vanguard," NXIVM and its President Nancy Salzman also known as "Prefect," all defendants in a counterclaim.
Not to be left out NXIVM's former hired help Juval Aviv and his company Interfor Inc. (A private investigation firm retained by NXIVM) and its Vice President Anna Moody, Esq. were also included as defendants.
As previously reported by CultNews NXIVM filed a frivolous lawsuit against the Ross Institute and Rick Ross in an apparent effort to purge criticism of its seminars, also known as "Executive Success Programs" (ESP), from the Internet.
See the following reports:
"A Forensic Psychiatrist Evaluates ESP"
"A Critical Analysis of Executive Success Programs Inc."
"Robert Jay Lifton's eight criteria of thought reform as applied to the Executive Success Programs"
It seems that Raniere and Salzman hatched a rather desperate scheme, as reported by New York newspapers Metroland and the Albany Times-Union, which has now culminated with the consequence of making them defendants in the counterclaim.

"Vanguard" and his "Prefect" apparently participated in the planning of a so-called "sting" operation (as described by Interfor's lawyers in recent court filings), that included paying Aviv and Moody to pose as agents for a distraught mother supposedly struggling to free her "brainwashed" daughter from NXIVM, which has been called a "cult."  
However, the "mother" was really an actress hired by Interfor to play a role in what appears to have been an effort to somehow help NXIVM in its lawsuit.
The feigned parent said she wanted Ross to "deprogram" her daughter (another role that was to be played by Kristin Keeffe, a NXIVM devotee) in an "intervention" production staged and directed by Aviv and Interfor.
The NXIVM/Interfor scheme eventually fizzled when Ross told Moody he would not work alone with the "daughter," prevent her from leaving or work with her without the implicit understanding that she would be free to go at any time.
On Tuesday last week Judge Falk agreed with attorneys Peter Skolnik, Michael Norwick and Thomas Dolan of Lowenstein Sandler, PC, who are representing Ross pro bono, regarding their description of the NXIVM/Interfor plot as an "elaborate subterfuge."
The judge said that this was an "apt description."
He then told NXIVM and Interfor attorneys, led by Scott A. Eggers, of Proskauer Rose, LLP, that Raniere's "investigator [Aviv] essentially deposed defendant Ross, a represented party in this case, twice outside of the presence of his counsel. If this was supervised by lawyers, it is unethical, and it is misconduct in this litigation…" (See January 9, 2007 transcript beginning on page 104).
Oops.
Another serious fumble by "Vanguard" and his team.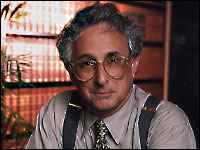 The judge then ruled, "Ross is entitled to and should be and is permitted to learn about this 'investigation' and what it revealed. The Court believes that what occurred here was unfair…and this was done under false pretenses and…That kind of activity is inappropriate in civil litigation…"
In response to motions made by NXIVM and Interfor to quash subpoenas served on them regarding discovery of their purported "sting" operation, which included unlawfully obtaining Ross' private and personal bank and phone records the judge responded, "I am denying the motions to quash the subpoenas…I think that the plaintiffs are entitled to this information."
What explanation did NXIVM and Interfor offer the court to explain their unlawful and unethical conduct? 
Attorneys representing the two corporations told the judge that there should be nothing wrong with the use of deceit, which was both necessary and a prerequisite of their supposed "sting" operation.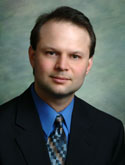 However, Judge Falk stated for the record, "It was said in court today that there is no problem with something being deceitful. It has to be deceitful. The Court believes this conduct is improper, well beyond the rules of litigation, the rules of the game…"
"I pose the rhetorical question, where does this end, where does this lead?" the judge asked. "You might get to the point where investigators or actors and actresses could represent themselves to be members of part of the court or an employee of the court. This kind of conduct is…a very serious matter in this Court's opinion."
NXIVM and Interfor attempted to block discovery about the internal workings of the "sting" operation, by citing that such information was protected by attorney/client privilege.
However, the court saw it otherwise. 
"Now, we had the whole discussion of the bank records and phone records…That is one of the reasons that there will be discovery here. That discovery is not privileged in any event. As to how that occurred, depending on the answer to that, there may be more information on crime and fraud," Judge Falk said.
And the court noted, "The crime fraud exception allows for disclosure of otherwise privileged communications when they are made with the intent to further a continuing or further a crime of fraud. It applies to both attorney/client privilege and work product."
Regarding the motion made by attorneys representing Ross and the Ross Institute to amend Raniere's lawsuit to include a counterclaim the judge responded, "the Court is inclined to say that Ross presented the Court with a sufficient basis to conclude that a common law fraud itself has occurred…It is even possible that if depending on the extent of the misconduct that that could rise to the level of a fraud on the Court, in which case that could lead to various results including sanctions, and that provides a basis for the relevance of this discovery."
The judge also wanted to know "the extent that Keith Raniere participated in any of these meetings" concerning the so-called "sting."
NXIVM's lawyers claimed that "Vanguard" is actually only "'a full-time volunteer providing services to the [NXIVM] organization.'" 
In response to NXIVM and Interfor's claim that somehow "bad faith" or "prejudice" should preclude a counterclaim being allowed against them Judge Falk responded, "Bad faith has been alleged. I see no evidence of it at all…and there has been no showing whatsoever of prejudice in this case…Both parties agree that an invasion of privacy claim is cognizable under New Jersey law, and I will grant the motion with respect to that claim."
In a not so cryptic comment summing up the day the federal magistrate offered some words of wisdom, that "Vanguard," Interfor and their litany of lawyers might want to reflect upon, concerning their latest legal setbacks.
"I would like you to let what happened today sink in for a day or so…" said Judge Falk. 
Note: The Ross Institute has also been and is still represented pro bono regarding the NXIVM lawsuit by attorneys Thomas Gleason of Albany, New York and Advisory Board Member Douglas Brooks of Boston.