Britney Spears seems to drift from one religion to another lately and apparently can't quite make up her mind.
Raised a Baptist she ended up veering off the evangelical Christian path to follow her idol Madonna into the "Kabbalah Centre." Subsequently, she picked up a Hebrew tattoo.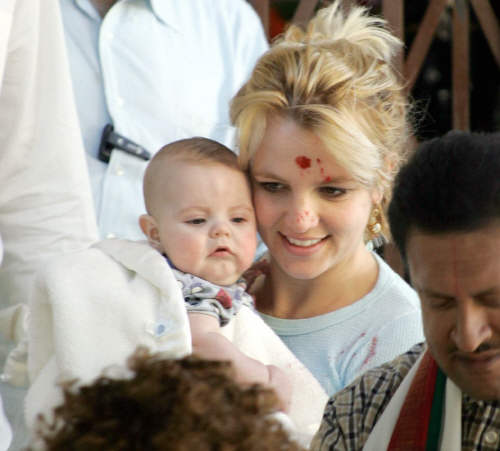 Now it appears that the singer is interested in reincarnation and Hinduism.
Spears attended a Hindu temple in Malibu to bless her baby boy and according to a priest there seek "spiritual guidance."
The former teenage pop star, per Hindu practice, even got a traditional red dot on her forehead reports Contact Music.com.
But that dot was done with dye, so unlike her tattoo it won't require laser surgery to remove.
Britney Spears supposedly takes the Hindu belief in reincarnation quite seriously and is reportedly attending "reincarnation sessions" with a "Hindu psychic" says the Post Chronicle.
But unlike other stars that almost always reveal they were famous names from history in their past lives, Spears says she was just a dog.
A "Shetland sheepdog" that "worked on a farm in Virginia" to be exact.
This refreshingly humble singer has also taken up bowling, supposedly to improve her troubled marriage reports Spotlighting News. "Bowling allows us to curse at each other in a good way," she reportedly was overheard to say.
Does Britney Spear's latest incarnation as a would-be Hindu require her to take on a new moniker?
Given that she was "born a Baptist" does this make her a "Christian for Krishna"?
Maybe it's best to say, "Britney is a bowling Baptist, Kabalistic, Krishna devotee."
Now that's a real tongue twister isn't it?