By Jim Bergin, M.A., Gentle Wind Project Cult former member
A book review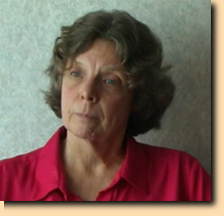 Here they go again " "Caught in the Act of Helping: How a government official destroyed 23 years of effort aimed at producing revolutionary, new stress relief technology" by Mary Miller (aka Moe Miller, Claudia Panuthos, Mary Elizabeth Carreiro, etc. (photo right) of Gentle Wind Project (GWP): aka GW Retreat, Brothers & Sisters of the Spirit World, Family Systems Research Group,  FSRG-I Ching Systems, and on and on) is a sadly predictable diatribe whose only redeeming value is as a pitiful example of cult post-apocalyptic strategy, whereby cult leaders display typical delusions of persecution and distorted reality when they are exposed and "caught in the act of manipulating."
These delusory responses, as expressed in Miller's book, arise due to the inevitable conflicts the cult has with reality.  When cults, such as GWP, are exposed by former followers, as well as prosecuted by the justice system, the group and leaders must devise strategies to recreate their prevarications.  Typically, these self-induced perceptions are ones of being surrounded by "peril" whereby the proclaimed enemy seeks to destroy the cult's and its hapless followers' path to "save the planet."  The cult, as usual, attempts to evade all blame, deflecting it to the outside world, as cited on every page of Miller's missive.
In Miller's duplicitous fantasy, where anyone with critical views of the cult, and those who don't perform like Miller's cult followers, are defamed, GWP and its leaders, the Miller "family" (Tubby, Moe, and the other females living with them), are portrayed as the "poor" victims who only want "to save the world," but are thwarted when their deceptive dealings are exposed by multiple legal difficulties: one recklessly initiated by the cult leaders themselves; the other by government legal authorities responding to complaints from victims of GWP.  Miller blames the first "assault" on a married couple, Jim Bergin and Judy Garvey (using pseudonyms "Bernie" and "Grady" in her book) " two former GWP Cult followers and one time so-called GWP Board members (now conveniently cast as having some sort of fictional "catastrophic mental illness," according to the dissembling author) " and several international cult watchers and well known cult educators (including Rick Ross, Steve Hassan, and others) who posted Bergin and Garvey's exposes of seventeen years as GWP followers on their own websites. (In the real world Bergin, Garvey, and the others were defendants, over several years, in federal and state courts, from frivolous lawsuits unwisely concocted against them by the Millers and their GWP Cult).  Bergin and Garvey were assisted in their successful landmark defense " which in the book Miller fantasizes as a conspiracy " by Jerrol Crouter, Esq.,  the Berkman Center for Internet & Society at Harvard University (see Gentle Wind Case Summary http://cyber.law.harvard.edu/node/1322), and experts with a specialty in cults, Dr. Arthur Dole and Dr. Cathleen Mann.
GWP's second set of legal problems " about which the author vainly attempts to transform the Millers from snake oil hustlers to victims throughout tedious pages of indefensible libelous misrepresentations, in the reviewer's opinion " came from Maine's Assistant Attorney General, Carolyn Silsby, Esq., with whom the Millers and GWP subsequently signed a Consent Decree on August 14, 2006 pleading to lesser charges of deceptive practices and misuse of funds, and were summarily told to pack up GWP's bags of expensive "healing" hockey pucks and obtuse laminated computer-designed cards, return all funds illegally obtained, and leave the state.
Unfortunately, the obsessive disinformation, that continues for 451 pages, doesn't end there:  Bergin and Garvey are defamed by Miller as somehow able to influence not only Maine's Attorney General, but national and international media; Federal Judge Gene Carter, who ruled against the Millers in their frivolous federal lawsuit against Bergin and Garvey; Governor John Baldacci; cult recovery experts worldwide; and former GWP followers. Miller's irrational conspiracy theory goes on ad nauseum maligning anyone outside her convoluted interpretation of reality.  The Millers even condemn their own high priced attorneys. Top government officials are accused of surreptitiously sleeping with each other; Federal Judge Carter is said to be influenced by Maine's Governor Baldacci, and it only gets worse for those who take the plunge into this circular narcissistic rant.  Miller goes so far as to misappropriate the work of Dr. Robert Jay Lifton " Distinguished Professor Emeritus, CUNY, Harvard Medical School, contributor to Cultic Studies Review, and past keynote speaker at the International Cultic Studies Association Conference " on GWP's behalf.  Anyone familiar with Lifton's work on brainwashing might find this humorous, if it wasn't so embarrassingly outrageous and an insult to Lifton.
Many will have sympathy for those long-term followers still trapped in this Alice in Wonderland GWP-hole.  Now morphed back in business under yet another name, this time in Massachusetts, the Millers are up to the usual old scams (see www.life-insights.com).  Mary "Moe" Miller might be seen sporting a new "research" Volvo Cross Country, and John "Tubby" Miller with now-limited success, reportedly attempting his same lurid "energy work" tricks on a former generous female follower/benefactor, and " if history repeats itself " on others (see Wind of Changes, www.windofchanges.org).
In sum, this book is a spurious and malevolent attempt to rewrite reality and obfuscate this group's illegal activities in the eyes of the Millers' unwitting followers. Researchers into cult behavior and delusions, and legal authorities needing a better understanding of how these groups function, would find this poorly edited trumped-up apologia pro vita sua vanity publication a repetitive and obsessed example of a typical cult strategy to reframe perception, but hardly worthy of the time or price tag.
The lady doth protest too much, methinks – William Shakespeare
Copyright © 2010 Jim Bergin