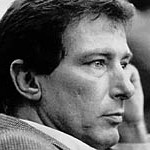 Landmark Education, the mass marathon training company founded by 1970s self-styled seminar guru Werner Erhard (a.k.a. "Jack" Rosenberg), has apparently permanently left France and shut down its branch there.
But why?
Can it be that this for-profit privately owned company, which is currently run by Erhard's brother Harry and his sister Joan and boasts 52 offices in 21 countries and combined global revenue of more than $70 million dollars in 2004, doesn't think Paris is profitable?

Perhaps the reasoning behind the departure from Paris by the controversial company formerly known as "est" (Erhard Seminars Training), was a scathing expose' aired on France's Channel 3 TV.
Up until recently only the French viewing audience understood just how damaging this television program might be.
However, thanks to "You Tube" the complete program about Landmark can now be seen with English subtitles (click on the links provided within this article to see each segment).
What the French investigative report accomplished was a candid view of Landmark training.
The crew of channel 3 effectively penetrated the shroud of secrecy that surrounds Landmark's introductory seminar called the Forum, by using hidden cameras.
This provided firsthand proof to the French about what goes on within the three days of training sessions.

In the first segment the audience is introduced to Alain Roth, Landmark's former French director, who leads the seminar.
Roth subjects one woman to "public humiliation" before hundreds of participants and calls her an "asshole." After being berated by the Landmark leader for about an hour she breaks down in tears while he insults and mocks her.

In this segment the audience is also introduced to some of Landmark's jargon, comprised of thought-terminating cliches such as "racket" and "inauthentic." Terms Roth routinely uses to dismiss anyone that asks him questions that he doesn't really want to answer.
In the second segment a lawyer and "brainwashing expert" explains that Landmark "breaks a person" and he labels its methods "totalitarian."

On balance an interview is included with Landmark's designated spokesperson, Sophie McLean, flown in from New York.
Ms. McLean attempts to dismiss the description that her company is a "cult" or "cult-like" and that its business is somehow based upon "brainwashing."
McLean specifically cites a report that Landmark paid a French psychiatrist Jean-Marie Abigrall to prepare.
However, despite being paid more than 45,000 Euro Dr. Abigrall is less than positive about Landmark. He laments that Landmark's leaders lack meaningful training and calls that "shocking." He then refuses to take a position as to whether the company is a cult or not.
During segment three unhappy Landmark customers refer to it as a "sect," which is the word most commonly used by Europeans to describe what Americans would call a "cult."
One woman says she was treated "like a puppet."
Channel 3 then interviews Jean-Pierre Brard the Deputy Mayor of Montreuil who once served as vice-president of the French Assembly committee designated to investigate and identify "sects."
Brard says McLean is "lying" and explains that Landmark meets the criteria of a "sect" because it features a "guru who destabilizes people to enslave them" and "relinquish critical thought."
Brard then goes on to describe Landmark as a "network of money" focused primarily on making profits.
In segment four one former student describes the long grueling hours of training, within a tightly controlled environment, which allows participants little time for critical thinking or "perspective."
Landmark's method of "education" is labeled "emotional abuse."
Then an expert sociologist discusses the "structured" and "organized" seminar format that engenders "total power" for the leader. He also concludes, "the goal is to destabilize the individual."
The "brainwashing expert" adds that Landmark participants are systematically regressed to a "child-like state," that affords the guru/leader a "stranglehold."
The fifth segment reveals that much of what outsiders might perceive as spontaneous about Landmark and its students is in fact carefully rehearsed. The so-called "graduation" event at the end of a Forum is actually a "well-oiled ritual" devised for "seduction" or recruitment.
A former seven-year member of Scientology compares her "sect" to what is shown about Landmark. She observes that the two organizations have a very similar approach.
Roth is called a "manipulator" who uses a contrived vocabulary "incomprehensible" to those outside of Landmark.
In the final sixth segment Landmark's "volunteers" are filmed doing everything from working the phones to scrubbing the bathroom floor for free.
Channel 3 also captures firsthand how the company's volunteers repeatedly call, some say harass, past participants to take more courses.

Never before has what's wrong with Landmark been so precisely captured firsthand on film.
At the end of the program it's not hard to understand why the company gave up on France.
One French Landmark supporter interviewed by Channel 3 cries as she is confronted with the footage recording the bad behavior of her mentor Alain Roth. She then attempts to deny that anything is wrong, but even this diehard believer apparently ultimately finds the film footage undeniably disturbing.
No doubt Landmark Education will find the sharing of this revealing television program through "You Tube" disturbing as well.
It is difficult if not impossible to refute the stark evidence provided of Landmark's inner workings when it's captured by cameras.
During the 1970s Werner Erhard relied upon the secrecy that surrounded his seminar business to protect its practices, but now with the Internet and hidden cameras it is much harder to control information.
Erhard is now 70, certainly a wealthy man, who reportedly lives in the Cayman Islands with his long-time girlfriend.
But lately it seems he is concerned about his "legacy."
A documentary titled "Transformation: The Life and Legacy of Werner Erhard" has been making the rounds at film festivals, which is focused on Erhard's supposed contribution to the so-called "human potential movement."
The documentary was done with Erhard's full cooperation and produced by his former lawyer.
Don't expect to see any of the French footage in what might be easily labled a "puff piece," which paints the aging guru as positively as possible.
You can also see the 2003 French documentary "Inside Landmark Forum," by downloading it here.
Postscript: Since this article was posted all the video clips have been removed. There is no longer any Internet access to the French television program about Landmark Education. All that remains at You Tube is a clip promoting the "documentary" titled "Transformation" about the so-called "legacy" of Werner Erhard. At You Tube it says "This video has been removed due to terms of use violation." At the Internet Archive, which formally featured the complete 2003 French documentary it states, "The item is not available due to issues with the item's content." Who do you suppose had "issues" with the content of this material and pressured the servers to suspend access? It seems that when some people can't defeat the facts they resort to censorship.
Update: The video can be viewed and/or downloaded from Google Video.
Another update: Google has removed the documentary. But streaming video is now available through another site called "Daily Motion" click here. If you would rather download the documentary it's available through Torrents click here.
Another update: "Daily Motion" also pulled the video, but now it may be viewed through the "Cult Awareness and Information Centre in Australia."