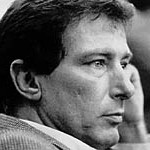 Landmark Education, a for-profit privately owned company that sells "human potential" seminars originally concocted by "Werner Erhard" now run by his brother Harry, has created something of an Internet news buzz over what some are beginning to call a "forbidden video."
As CultNews reported back in September a video was posted at YouTube that for the first time gave the public an inside look at what Landmark calls "The Forum," its introductory four-day mass marathon training experience.

Critics for years, going all the way back to the Forum's last incarnation under the name est (Erhard Seminars Training), have compared its version of "education" to "brainwashing" or "coercive persuasion."
But until the French news report surfaced on-line complete with hidden camera footage from inside an ongoing Forum, no one knew exactly how coercive Landmark's persuasion might be.
The French video demonstrates firsthand how Landmark breaks down participants through a combination of emotional battering and a commitment to confinement within an environment the company controls.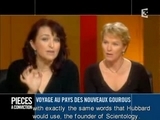 After this news report aired nationally in France two years ago, Landmark packed up and left the country, closing down its once lucrative branch in Paris.
When Art Schreiber, Landmark's long-time "General Counsel," learned about the video being accessible on-line he took immediate offensive action to have it pulled.
First, it was removed from YouTube, then Google, then Daily Motion, and then the Internet Archive.
The French video can now only be seen either by downloading it through Torrents or visiting a page within the Web site "Cult Awareness and Information Centre" (CAIC) based in Australia.

The Ross Institute of New Jersey (RI), sponsor of CultNews, has also archived a copy of the program transcript. 
For those that don't know much about Landmark Education and its history of harassing its critics, the company's tactics are eerily similar to a more familiar Netizen nemesis, the Church of Scientology.
Like Scientology, Landmark apparently employs legal threats directed at those who dare to question the ethics and efficacy of its training and/or somehow pierce its secrecy. This can be seen through a procession of threatening letters, which if unheeded, may lead to the filing of a frivolous lawsuit.
Landmark's hope, much like Scientology's own litigation strategy, appears to be that it can wear down and/or neutralize its critics through legal fees and costs.
Using litigation like a weapon against its perceived enemies Landmark has successfully cowed critics, by what some have characterized as an abuse of the judicial system.
To better understand the company's long history of legal threats and litigation click here.
So what's happening now between Landmark Education and Internet service providers like Google fits easily within the company's historic use of legal threats and litigation.
CultNews would like to offer readers a glimpse into Art Schreiber's "bag of tricks."
In October a website that republished the September CultNews report about the French video received a nasty email from Landmark's lead lawyer.
Schreiber stated, "I am writing you on behalf of Landmark Education…I come to you with an important request to delete the October 4, 2006 posting of the commentary from…Cultnews.com, titled…'Why Landmark Education Left France.'"
Schreiber continued, "France TV 3 referred to in this commentary seriously misrepresented our company and the report contained many wholly inaccurate and biased statements, as well as some extremely serious accusations that were totally and absolutely unfounded [sic]. TV 3 operated unprofessionally, using tactics including the use of illegally obtained materials, and in serious violation of the privacy of the other participants in the course [sic]," Schreiber claimed.
He then went on, "When this program was broadcast in France, Landmark Education's attorney in France sent a detailed letter to TV 3 that illustrated the gross inaccuracies and libelous representations in their program [sic]."
However, CultNews could not find any report about litigation filed against anyone connected to the French television news report.
Schreiber then claims, "Immediately upon receipt of this letter, and having had the gross inaccuracies and libelous representations exposed [sic], TV 3 removed the transcript of the documentary from its own website and cancelled all future broadcasts."
However, no public apology was ever cited or copied by Art Schreiber. And CultNews has found nothing to substantiate these claims.
The republished September CultNews article was not taken down per Schreiber's request.
And the original report remains on-line at CultNews.
It is interesting to note that at no time in the letter does Schreiber invoke a copyright claim. What he is upset about is the critical content within the broadcast report.
This type of tactic is apparently standard Schreiber.
That is, make threats to publishers and/or Internet providers and hope that no one will "call his bluff."
Schreiber has never contacted CultNews directly with a complaint alleging that anything within the CultNews article about the French video was either a misrepresentation or inaccurate.
Why not?
More about Schreiber's history with CultNews later.
Landmark is getting quite a buzz over its most recent Internet censorship crusade, which was picked up internationally through an article in Reuters. Part of its strategy of legal harassment seems to be focused on finding out who originally posted the "forbidden video."
Schreiber used a ridiculous copyright claim in an effort to compel Google to expose the identity of the user.

Landmark's lawyer claims that the French news report somehow violated the company's intellectual property rights by filming the Forum and thus showing excerpts of a seminar weekend.
Schreiber used provisions within the "Digital Millenium Copyright Act" (1998) to go after Google,  hoping the Internet giant.
But the Electronic Frontier Foundation (EFF) has called Schreiber's bluff.
Whatever use there was of Landmark's material it was "clearly for purposes of criticism and commentary, i.e., a non-infringing fair use," stated EFF in its response.
This is not the first time Landmark has tried to force a service provider or Internet host to give up the identity of an anonymous user that has posted critical information about the company.
Landmark attempted to do the same in a lawsuit it filed against RI, the sponsor of CultNews.
But in the end Schreiber chose to dismiss Landmark's lawsuit with prejudice rather than go forward in discovery. This was done when the company realized, after repeated efforts to seal court records in the litigation, that everything discovered by attorneys representing RI would become permanent public record.
It would have been impossible for RI to successfully thwart Landmark without the generous legal help provided pro bono by one of New Jersey's most prestigious law firms Lowenstein Sandler.
Now EFF is following in the footsteps of the New Jersey attorneys Peter Skolnik and Michael Norwick, who effectively forced Landmark to either "put up or shut up."
That is, Landmark was forced legally to either demonstrate the validity of its defamation claims, which meant ultimately releasing any internal documents regarding complaints, personal injuries, past litigation and/or legal threats, or shut down the lawsuit.
Landmark and its counsel Schreiber decided to "cut and run."
Of course Schreiber attempted to spin his legal defeat into a strategic retreat,  somehow due to a recent court ruling about the limits of vicarious liability for the hosts of message boards.
However, the RI message board was actually only a small part of Landmark's overall lawsuit, which included many other claims.
Throughout the litigation Landmark's lawyers repeatedly attempted to pierce without any success, the protection provided by RI to anonymous critics of its programs.
In Landmark's latest effort against Google it is once again attempting to pierce the anonymity of a critic posting on the Internet.
Landmark hopes it can thus intimidate critics and/or potential critics on the Internet.
Ultimately, what Landmark wants, is to censor the Internet as it sees fit.
Landmark's effort to purge the "forbidden video," has now extended to Australia and even threatened a relatively obscure website operator in Europe, simply because he provided a link to the Australian site where the French video can still be seen.
EFF recently stated, "Landmark's Australian lawyers entered the picture with a cease and desist letter of their own, sent to CAIC's ISP Studio Solutions, and still asserting the same tired copyright claim. While Australian copyright law is different that the US, it doesn't give you a copyright on someone else's video."

"Large portions of its copyrighted work"?
Anyone interested should watch the video.
What is being referred to as "large portions" is actually little more than brief snippets of an abusive Forum leader castigating a participant and encouraging public confessions.
Hardly a "copyrighted work."
Whatever words were spoken that might have once been written by Landmark's revered source Werner Erhard, they would fall well within what is legally considered "fair use" as EFF has pointed out.
The relevant case, which set a legal precedent recently, is yet again another effort to censor the Internet by a group that has been called a "cult."
This time the seminar selling for-profit privately owned company is NXIVM.
Just like Landmark, NXIVM claimed that its "copyright" was somehow violated when two doctors wrote critical reports about its programs, which were later published and available on-line through the RI database.
However, NXIVM's request for an "emergency injunction" to remove the material due to copyright was rejected. First, by a federal judge in Albany, New York and later that decision was upheld by the Second Circuit Court of Appeals.
NXIVM attempted to have its injunction request heard before the United States Supreme Court, but was rebuffed, which effectively allowed the Second Circuit ruling to stand.
Essentially, what the high court concluded was that like a theater or book review, a report or analysis of a company program may likewise quote from copyrighted material for the purpose of criticism.
RI was represented pro bono by Albany attorney Thomas F. Gleason and RI Advisory Board member and Boston attorney Douglas Brooks.
The brief presented to the Supreme Court was prepared with help from the Washington watchdog group Public Citizen.
Despite legal threats by companies bent upon censorship like Landmark and NXIVM the Internet seems to have turned a corner in the courts. And this would not have been possible without pro bono help provided by attorneys dedicated to freedom of expression and the First Amendment.
Organizations such as Public Citizen, the Berkman Center for Internet and Society at Harvard Law School, and the  Electronic Frontier Foundation have provided much needed help to keep the Internet free and functioning as the "information highway" it was intended to be.
In another important legal case the Berkman Center helped the former members of a purported "cult" called the "Gentle Wind Project" (GWP) defend themselves against a harassment suit filed to silence them.
In the end not only did GWP decide to drop its lawsuit, but as a result of the litigation the Attorney General of Maine took a closer look at the supposed "nonprofit charity" and ultimately shut it down for making false claims, abusing charitable funds and illegal practices.
Former GWP members and defendants in the lawsuit, Judy Garvey and Jim Bergin, not only walked away in triumph, but also logged another legal victory for freedom of speech on the Internet.
RI also became a defendant in the GWP lawsuit, essentially for posting a link to the Garvey/Bergin site. Once again, pro bono help was provided by Douglas Brooks and also by attorney William Leete of Portland, Maine.
Ironically, companies like Landmark, NXIVM and GWP expect and depend upon a free marketplace of ideas to sell their ideas and/or wares.
But it seems when it comes to the concept of an "information highway," these folks apparently feel it should be one-way street.