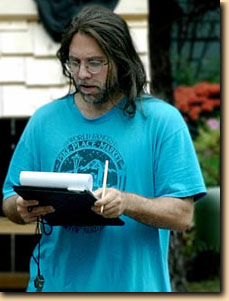 On November 30th NXIVM (pronounced nexium like the purple antacid pill), the brainchild of failed multi-level marketing guru Keith Raniere (photo right), experienced yet another legal defeat in its ongoing effort to end criticism of the company on the Internet.
In a federal court order handed down by New Jersey Judge Dennis Cavanaugh a motion filed by NXIVM to reinstate causes of action previously dismissed in June of 2007 has been denied. This included an effort to reinstate claims of "product disparagement" and "tortious interference" in a long-standing lawsuit filed against the Ross Institute of New Jersey (sponsor of CultNews).
Cavanaugh ruled that critical articles written by psychiatrist John Hochman and psychologist Paul Martin within the Ross Institute Internet Archives are "protected statements of opinion which cannot be the basis for legal claims of disparagement or tortious interference."
Read the reports:
"A Forensic Psychiatrist Evaluates ESP"
"A Critical Analysis of Executive Success Programs Inc."
"Robert Jay Lifton's eight criteria of thought reform as applied to the Executive Success Programs"
NXIVM attempted to have a statement recently extracted from Hochman as part of a settlement considered "new evidence" in support of a hoped for reversal by Judge Cavanaugh of his previous ruling.
However, the judge said that the psychiatrist's statement "does not contain any new evidence" nor "any new information."
Cavanaugh pointed out that the "case was originally filed in August 2003; and resolution has been delayed by repeated changes in counsel and failures [by NXIVM] to provide discovery which have led to monetary sanctions" against the company.
Summing it up the New Jersey federal court ruled, "Granting leave to amend imposes undue delay and unfair prejudice on the non-moving party and permits amendment where the Court determined such claims are futile. Therefore, leave to amend to re-plead the…claim[s] is denied."
This means that NXIVM and Raniere, known as "Vanguard" amongst his devoted followers, only have very tenuous copyright and trade secret claims left to litigate.
For those that have not followed the long story of NXIVM's lawsuit filed against the Ross Institute, Keith Raniere has made copyright and trade secret claims similar to those frequently used by Scientology. That is, Raniere maintains that quoting his written teachings for the purpose of criticism is somehow a violation of copyright and trade secret protection.
However, The United States Court of Appeals for the Second Circuit  in New York City previously handed down its definitive opinion some time ago (NXIVM Corp v. The Ross Institute " Docket No. 03-7952), regarding an injunction request made by NXIVM to remove the reports from the Internet based upon such copyright claims.
The court said, "We agree…that the website's use of quotation from the manual to support their critical analyses of the seminars¦[was used] for the purpose of 'criticism, comment scholarship, or research.'
The court also noted that NXIVM's claim that the doctors had unlawfully copied "'the heart of their 'services'" within the reports was meaningless, because "such services¦are not copyrightable expression."
The decision read, "in order to do the research and analysis necessary to support their critical commentary, it was reasonably necessary for defendants to quote liberally from NXIVM's manual."
The court also said that use of a group's material "might well harm, or even destroy, the market for the original," but that this "is of no concern to us so long as the harm stems from the force of the criticism offered."
Judge Dennis Jacobs summed it up succinctly, "Ross and his co-defendants quoted from NXIVM's manual to show that it is the pretentious nonsense of a cult¦Certainly, no critic should need an author's permission to make such criticism¦"
A NXIVM effort to appeal the Second Circuit decision to the United States Supreme Court also failed.
What will Keith Raniere do now?
The situation does appear to be getting increasingly hopeless for the purported "cult" leader.
As the Second Circuit prophetically predicted years ago; "Plaintiffs are not likely to succeed."
Nevertheless Keith Raniere through NXIVM has spent millions of dollars on legal bills hoping that his lawyers could somehow transform frivolous empty claims into substance.
Meanwhile the Ross Institute has been generously represented pro bono by attorneys and public advocacy groups dedicated to protecting freedom of speech as provided for by the First Amendment.
What Raniere foolishly chose to ignore is that included within the world of ideas and free expression is the implicit freedom to criticize what others create. Apparently, despite his vaunted "genius," Vanguard couldn't comprehend this simple truth.
Now other than a pitiful settlement from a beleaguered psychiatrist weary of the litigation, Raniere has little to show for his years spent in the courts. Instead, all his legal wrangling has actually achieved is to expose NXIVM to increased scrutiny, which has reportedly caused significant defections.
Sources have told CultNews that NXIVM keeps shrinking, as more and more of its devotees have decided to leave.
Today the company seems to depend largely on the continuing generosity of its few remaining wealthy patrons.
"Vanguard," as it apparently turns out is hardly on the "cutting edge" of anything, other than fundraising.
Note: the Ross Institute is deeply grateful to the many attorneys that have provided pro bono legal assistance. This has included Douglas M. Brooks, Thomas F. Gleason and Public Citizen, who handled the litigation while it remained in New York and Peter Skolnik, Michael Norwick and Tom Dolan of the law firm of Lowenstein Sandler, along with assistance from the Berkman Center of Harvard University, which has handled the litigation since its transfer from New York to New Jersey federal court.