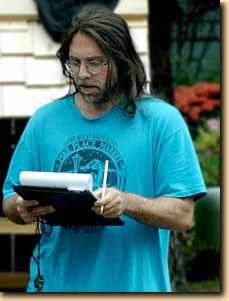 An Albany Times-Union front-page story featured the fantastic financial failures of Keith Raniere (photo left), leader of a purported "cult" near Albany, New York known as NXIVM (pronounced Nexium like the purple antacid pill).
It seems some of Raniere's devotees became the bank for his business schemes, which culminated in fantastic losses.
Perhaps those investors may prefer the antacid pill now to further financial advice from NXIVM, also known as "Executive Success Programs."
Raniere, a former multi-level marketing guru that saw his previous business Consumer Buyline go bust, has reportedly blown through about $100 million dollars of other people's money.
That is, funds primarily provided by two heirs to the Bronfman/Seagram fortune, Sara and Clare Bronfman.
According to the Times-Union report Raniere lost "$65 million" through commodities speculation, "26 million" in failed California real estate deals and spent millions more in legal fees.
But Mr. Raniere, known as "Vanguard" to his faithful followers, apparently attempts to deflect any meaningful personal responsibility by blaming his failures on former business associates, the "negative thoughts" of others and "outside forces."
NXIVM's latest lawyer Robert D. Crockett of the Los Angeles law firm of Latham & Watkins, acknowledged Raniere's "heavy losses," but attempted to spin their significance.
"We're talking about people [Sara and Clare Bronfman] who have hundreds of millions of dollars to invest in speculative and non-speculative ventures, " Crockett said.
But isn't it also reasonable to surmise that Raniere, who claims that "The Guinness Book of World Records" has listed him for his supposedly high IQ, is just plain stupid?
CultNews has been told that the Bronfman sisters may have another hundred million or so to blow before they go broke.
But how long will that hold out given the burn rate of Mr. Raniere?
Vanguard, who is described in the recent press article as both a "compulsive gambler" and "crazy," seems to be repeating past mistakes.
Consumer Buyline, Raniere's last major business enterprise, tanked after numerous lawsuits and substantial legal fees overwhelmed it.
Is history simply repeating itself?
It has been said that those who forget the lessons of history are doomed to repeat them.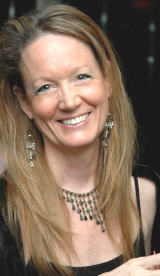 If the Bronfmans go broke they will likely be able to fall back upon forgiving family resources.
But at least one purported victim of Raniere's financial schemes isn't so forgiving.
Not an heiress Barbara Bouchey (photo right) worked for years to accumulate her assets. She then reportedly lost $1.7 million betting on Raniere.
Ms. Bouchey wants her money back.
Editor's Note: Included in the millions of dollars Keith Raniere has wasted of other people's money is what he has spent on hopeless lawsuits to harass his critics and perceived enemies. This includes years of extended litigation against the Ross Institute of New Jersey, sponsor of CultNews. Perhaps Raniere's only significant achievement may be an effective expansion of the First Amendment through an appellate ruling in this litigation, i.e. regarding freedom of speech and fair use, versus the power of a confidentiality agreement. Hardly the result that Mr. Raniere wanted, but nevertheless significant. It seems as if lawyers are the most likely professionals to make money off Raniere. Meanwhile the Ross Institute is deeply grateful to the many attorneys that have provided pro bono legal assistance. This has included Douglas M. Brooks, Thomas F. Gleason and Public Citizen, who handled the litigation while it remained in New York and Peter Skolnik, Michael Norwick and Tom Dolan of the law firm of Lowenstein Sandler, along with assistance from the Berkman Center of Harvard University, which has handled the litigation since its transfer from New York to New Jersey federal court.