The on and off and then on again NXIVM-linked Dalai Lama of Tibet (photo right) lecture in Albany, New York finally took place this week, but the sponsors of the event said they lost $142,000, reported the Albany Times-Union.
His Holiness usually sells out at virtually any venue, but this time he failed to fill the relatively humble 2,500 seat downtown Albany Palace Theatre, which had 200 seats left empty.
Why not "standing room only" for a Nobel Prize Winner, who is regularly a huge draw around the world?
Well, this might be because an organization with ties to a purported "cult" was the sponsor of the event, which may have left potential ticket buyers less than enthusiastic.
This same consideration seems to have previously put off three prominent bastions of higher education.
First Skidmore College and then RPI refused to host the Dalai Lama event. Then the University of Albany agreed to rent space, but only if certain preconditions were met, regarding any potential proselytizing by NXIVM of its students.
It seems the schools admired the Dalai Lama, but they had problems with NXIVM, a controversial large group awareness training (LGAT) company, that sells its philosophy, through seminars called "intensives," which may last as long as two weeks.
Some say NXIVM/Executive Success Programs (ESP) uses "thought reform" (commonly called "brainwashing") on its customers.
Many students called "Espians" have moved to Albany and become a "community," closely wound around the company's founders Keith Raniere and Nancy Salzman.
Raniere is a former failed multi-level marketing guru and Salzman is a nurse who has spent years-studying neuro-linguistic programming.
Raniere, known to his disciples as "Vanguard" is the "conceptual" founder of the so-called "World Ethical Foundation Consortium" (WEFC), which sponsored the Dalai Lama's pilgrimage to the capital city of New York.
The money to back the event apparently came from NXIVM devotees, which includes Clare and Sara Bronfman, heirs to the Seagram fortune.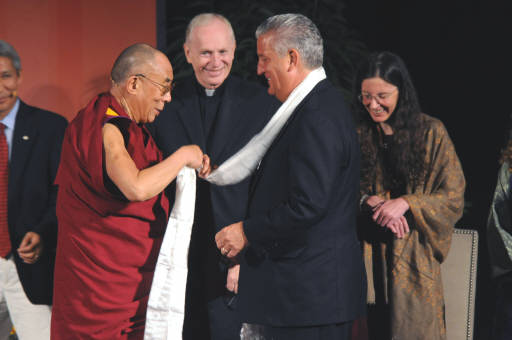 But only the Bronfmans, Albany's Mayor and Catholic bishop managed to get seats on stage with His Holiness, there somehow wasn't enough room Mr. Raniere or Ms. Salzman.
Raniere did come on stage briefly at the end to receive a khata (Tibetan scarf) from the Dalai Lama.
But only after the mayor got his (photo above) first.
The scarf wasn't all Mr. Raniere walked away with from the event.
CultNews has learned that as Vanguard entered the venue he was served with papers regarding a lawsuit.
This wasn't the recognition he wanted, but Raniere has been sued quite a few times and seems to almost enjoy litigation.
This most recent lawsuit is about failed real estate deals in California, which involve the Bronfmans and others.
When the representative of the Dalai Lama to the Americas explained the decision to cancel his cancellation and go ahead with the lecture in Albany he wrote, "A delegation from the [WEFC}…met with His Holiness…" And "they took the opportunity to clarify the background to the allegations that had been made against them…"
CultNews has heard persistent rumors that before the Albany event the Dalai Lama and/or his charities received a very large donation from someone with ties to NXIVM.
If the rumors were true this wouldn't be the first time that His Holiness took money from a less than holy "cult."
He reportedly accepted more than a $1 million dollars from convicted murderer Shoko Asahara, the leader of Aum. But of course this was before the Japanese cult leader ordered his followers to gas the Tokyo subway system.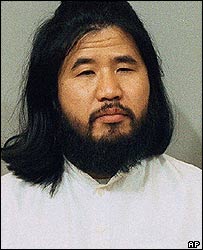 Asahara (photo right) milked his meeting with the Dalai Lama; there was a photo op, claims of a mentoring relationship, etc.
Perhaps many Japanese later joined Aum based upon the appearance of respectability that meeting seemingly conferred.
Photos of Raniere and the Buddhist leader will likely pop up soon at some Web site tied to NXIVM.
The Albany Times-Unions reported that  "a documentary film crew was already on hand to capture the Dalai Lama's visit," probably with ties to Raniere and/or NXIVM.
The Dalai Lama's spokesperson said His Holiness "suggested that if the allegations against [NXIVM] are unfounded, as they claim, they should exert themselves to clear their names. Otherwise, they should admit their mistakes and undertake not to repeat them in future." And added, "His Holiness emphasized the necessity of acting truthfully and transparently in whatever you do."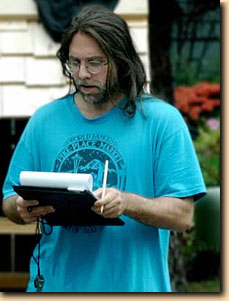 Well, Keith Raniere (photo left) has been repeatedly involved in one controvrsy after another and never publicly acknowledged mistakes, for example concerning the meltdown of his multi-level marketing company Consumer Buyline, despite being investigated by 25 state attorney generals and the focus of a class action lawsuit.
Instead, Vanguard keeps paying lawyers to sue almost anyone that criticizes him.
"Transparency "?
NXIVM/ESP requires its paying participants to sign a confidentiality agreement, precluding that they might tell what goes on within its programs.
And Raniere is now suing over what he calls "trade secret" violations, regarding critiques of ESP programs written by two mental health professionals.
Sara Bronfman appeared defensive when she talked to the press this week. "I know what I am doing is good and the truth will come out in the end," she said.
But given the history of Keith Raniere over the years this seems doubtful.