Moving from one religion to another has become almost a daily event for Britney Spears.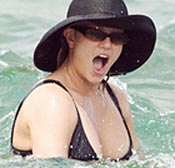 Formerly Baptist Britney has gone from Kabbalah to Hindu and now it's "yoga."
Spears was spotted dropping in on "Singh Khalsa" reportedly a "yoga master" and "Sikh."
The pop star is receiving some kind of "therapy" from the man in his LA home allegedly based upon "ancient Kundalini yoga practices" reports Ireland On-line.
However, it looks like the devotee of a group often called a "cult" has actually taken in the pop star.
Khalsa is associated with 3HO, which stands for the "Healthy, Happy, Holy Organization," founded by the now deceased "Yogi Bhajan," a notorious guru that built a following in the United States beginning in the 1970s.
Not exactly a mainstream Sikh, Bhajan was often derided by his more orthodox brethren as a bit of a heretic.
The man revered by his American devotees as "Sin Singh Sahib" was once sued  by his own secretary for fraud, deceit, assault and battery.
A leader immediately below Bhajan that largely ran his New Mexico ashram was indicted for drug running, racketeering and money laundering.
Not exactly the kind of people Ms. Spears should hanging around with now is it?
The star seems to be on an odd spiritual journey and two of the groups that she has wandered into, former galpal Madonna's Kabbalah Centre and now 3HO have been called "cults."
Is Britney Spears becoming a "cult hopper"?