It seems some groups called "cults" may not be so mutually exclusive. And at times their members just might help each other out a little bit, at least at fund-raising events.
Apparently this was the case at a Gucci New York charity dinner hosted by Madonna, which benefited a Kabbalah Centre linked charity called "Raising Malawi."
The controversial charity was founded by Michael Berg, co-director of the Kabblah Centre.
Not only did celebrity supporters of the fringe Kabbalah group show up for the event such as Demi Moore, Ashton Kutcher and potential new recruit Gwyneth Paltrow, but so did some famous Scientologists.
Scientology's number one persona Tom Cruise showed up with wife Katie Holmes, as did Scientology friend Jennifer Lopez.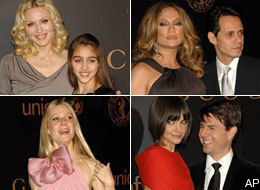 Have the two purported "cults" made a pact?
Madonna has gone on the record defending Tom Cruise and his Scientology antics. She once said, "If it makes Tom Cruise happy, I don't care if he prays to turtles. And I don't think anybody else should."
Was this Gucci event payback for the former "Material Girl"?
While it seems that these two "new religions" have little in common doctrinally, one supposedly believes in Jewish mysticism while the other has made intergalactic space travel an article of faith, they do seem to share at least two things in common.
Recruiting celebrities and what appears to be an insatiable desire for cash.