What could possibly be more generous than selling your house and giving away half of the money you make to help the poor?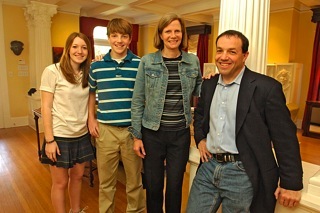 That's exactly what the Salwen family (photo left) decided to do, so their 6,000 square foot home near downtown Atlanta is on the block.
The Salwens have been featured on CNN and the Today Show, for their seemingly selfless generosity.
This philanthropic family of four has a history of charitable works, which includes supporting organizations such as Habitat for Humanity, Big Brothers/Big Sisters and community food banks.
But the charity the Salwens have chosen as the recipient for what may become their biggest gift, might be just a bit suspect.
The Salwens have announced from their Web site, "Through Hannah's Lunchbox, we are selling our house in Atlanta, moving to one half the size (and price) and investing the difference in the 'Hunger Project,'"
CultNews has reported about the Hunger Project (HP) before.
HP is the brainchild of former encyclopedia and used car salesman turned "human potential" guru Werner Erhard, previously known as "Jack" Rosenberg.
Erhard concocted "Erhard Seminar Training," commonly called "est."
During its heyday in the 1970s celebrities like singer John Denver took est training to "get it," a narcissistic epiphany that was part Scientology mixed in with a dose of of German philosopher Heidegger.
Est sold its series of seminars, beginning with an introductory weekend known as "The Forum."
Critics called it cult-like "brainwashing."
After a series of public embarrassments in the early 1990s, Erhard went into seclusion.
The guru's brother and sister then took over the privately held company, which is now known as "Landmark Education."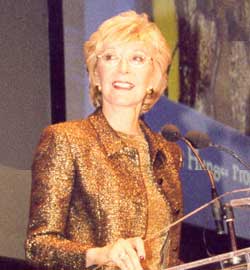 One of Erhard's early and ardent loyalists was Joan Holmes, the president of HP (photo right).
Holmes was an Erhard staffer and once proclaimed, "Est training altered everything for me" ("A Look at est in Education" December 1975).
In a 1980 memo Holmes explained how est and HP were tied together, "Est graduates represent the state of transformation in the world, the space of having the world work for everyone. Four years ago the graduates took on HP and the end of starvation on our planet…"
The history of HP and est are inextricably intertwined.
Est supporter and past HP board chairman Martin "Marty" Leaf wrote in the HP newsletter Quantum Leap in 1978, "True satisfaction comes from the transformation of self realized by maintaining the integrity of Werner Erhard's abstractions and generating principles."
In fact, it was Werner Erhard who wrote the "principles and abstractions" for what is called HP's "Source Document."
Erhard stated, "The Hunger Project is not about solutions. It's not about fixing up the problem. It's not anybody's good idea. The Hunger Project is about creating a context — creating the end of hunger as an idea whose time has come. As a function of The Hunger Project, we will learn what we need to know to make an idea's time come; then we will know how to make the world work" (The Hunger Project, "It's Our Planet — It's Our Hunger Project" May 1978 San Francisco, CA).
But Dr. David Hoekema, academic and author of an article about HP published by Christian Century in 1978, criticized the organization's rhetoric as "empty talk" filled with "estian terminology."
Before trading spaces maybe the Salwens should consider such criticism.
HP currently runs on an annual budget of more than $13 million (see Charity Navigator).
Holmes receives a substantial salary of $251,453.
But despite her comfortable compensation, that Holmes might never have attained without her mentor Werner Erhard, the HP president has at times not readily acknowledged the organization's history.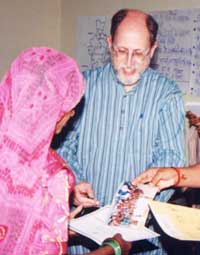 However, HP Vice President John Coonrod (photo left) has openly admitted HP's est ties in writing.
"The Hunger Project has never denied that Werner Erhard was one of the founders of The Hunger Project…Mr. Erhard encouraged participants in his programs to support The Hunger Project" (Coonrod letter to Carol Giambalvo February 5, 2003).
Coonrod and his wife Carol's combined annual compensation as HP employees is over $200,000.
Coonrod says, "Mr. Erhard left our board in 1990 and has had no subsequent participation with The Hunger Project."
But despite Erhard's official absence, his acolytes appear intent upon keeping his philosophy alive through HP programs.
HP prattles about presenting "a new paradigm – a paradigm consistent with the end of hunger. The key elements of that new paradigm are…self-reliance [and an]…enabling environment."
That is, "empowering people to end their own hunger."
HP explains, "The work of ending hunger is therefore not feeding people. It is the work of creating an enabling environment in which people have the opportunity and empowerment they need to build lives of self-reliance…"
"Conventional approaches are based on a framework of thinking that is inconsistent with what actually must be done to achieve the end of hunger on a sustainable basis," HP concludes.
"The Hunger Project believes that the strategies and actions required to end hunger must emanate from a new set of principles. These principles are derived from an authentic confrontation with the commitment to ending hunger, and from a deeper examination of what it means to be human.""Authentic," "new pardigm," "empowerment" and an "accurate framework of thinking"?
Sounds like "estian terminology" and/or "empty talk."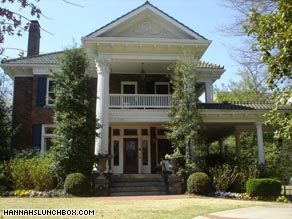 Meanwhile the Salwen family isn't about empty rhetoric, they are selling their home (photo right).
Perhaps the Salwens are Erhard enthusiasts, but if they're not, maybe they should reconsider to whom they will hand over half the proceeds the sale of their house.
Giving away home equity to an organization that promotes a philosophy for a "framework of thinking," isn't quite the same as supporting a food bank that feeds people, or a charity like Habitat for Humanity that builds homes.