One of the most inane and perhaps insane films to come out since Battlefield Earth with John Travolta was "What the (bleep)? with J.Z. Knight.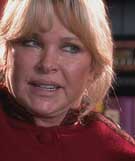 This is a "cult film" that was actually produced by members of a group called a "cult."
A few of the faithful from the "Ramtha School of Enlightenment" that believe a former housewife and cable saleswoman from Tacoma speaks for a 35,000 dead general named "Ramtha" from the "lost continent of Atlantis" made this stinker.
Now comes the so-called "director's cut" titled "What the Bleep!?: Down the Rabbit Hole."
But the producers of this long-winded "New Age" preach-a-thon should have tossed footage of the ridiculous Ramtha down some "hole."
The not so well received original has reportedly been "bloated into a shameless infomercial for the Ramtha" who offers her boring philosophy in "a droning monotone" reports Phil Villarreal for Scripps Howard. 
Villarreal calls the film "condescending…one-dimensional…Pseudo-scientific and psychological mumbo jumbo."
Frankly that's charitable.
Anyone who believes J.Z. Knight speaks for the dead, from Atlantis or anywhere else, is really "Down the Rabbit Hole."