A controversial fundamentalist Christian missionary organization called "Jews for Jesus" (JFJ) apparently has compiled a list of likely ultra-Orthodox Hasidic Jewish homes in New York and New Jersey and targeted them for unwanted mailings and possible future home visits.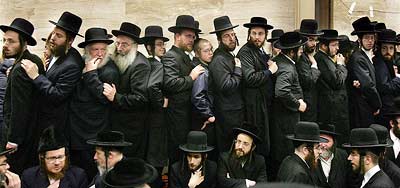 A Yiddish language DVD titled "Days of Moshiach" was received at about 80,000 homes on Saturday in primarily Hassidic and Hareidi neighborhoods. And it seems that the labeling and presentation was done deliberately to mislead its recipients.
Based upon the packaging a first impression might easily be that Jews rather than evangelical Christians sent the DVD.
The mailing targeted Jewish households in Kiryas Joel; the Monsey area of Rockland County; the Borough Park and Williamsburg sections of Brooklyn; and Lakewood, N.J. reports Arutz Sheva.
Reportedly missionaries are expected to follow-up the DVD delivered by making personal visits, dressed up to look like members of the ultra-Orthodox communities.
A spokesman for JFJ admitted that his organization was behind the campaign, but claimed its purpose was to address "distortions" and "misinformation" about "Jesus."
However, the New York regional director of the Anti-Defamation League (ADL) said that JFJ is "deceptive because they are not Jewish and they are trying to create the impression that they are" reported the Times Herald-Record.  
JFJ seems to use such confrontation to garner attention and generate press, which the organization probably hopes will lead to more contributions from its evangelical supporters. JFJ is a member of the Evangelical Council for Financial Accountability (EFCA).

In Israel one Jew outraged about JFJ and its continued harassment of the Jewish community explained why he considers the organization "evil."
Bradley Burston urged the group to "leave the Jews alone" and said that such "proselytizing is persecution." His comments were published by Haaretz.
"Believe whatever you want. Practice whatever you preach. Just stay the hell away from us," he concluded.
This appears to summarize the sentiments that most Jews have about groups like JFJ.
Of course many evangelicals seem to think they have marching orders from God to "share their faith" with Jews repeatedly over and over again. Apparently a general sense of religious triumphalism and hubris often prompts their proselytizing. 
Now JFJ may be going door-to-door much like Jehovah's Witnesses, but unlike the Witnesses they intend to knock only on Jewish doors.
Not all born-again Christians endorse such repeated harassment of the Jewish community. Billy Graham has spoken out against targeting any group through a missionary effort.
Interestingly, many of the same fundamentalist Christians that support targeting Jews for conversion don't appreciate Mormons or Witnesses attempting to convert them.
Perhaps JFJ and its supporters might consider that if such unwanted attention bothers them, it might just bother those that they push their religion on as well.
After all wasn't it Jesus who said, "Do unto others as you would have them do unto you."
Or is this somehow one of the "distortions" that the JFJ spokesman wants corrected under the heading of "misinformation"?