For some time Oprah Winfrey has been drifting further and further out to the fringes of "New Age" philosophy, which is strewn with "self-help" claims. And her fans have faithfully followed the star without much meaningful critical thinking, somewhat like cult members enamored with a self-styled messianic leader.
Oprah's ongoing spiritual odyssey last year included a revelation called "The Secret" (see YouTube clip), a DVD concocted by Rhonda Byrne, a former Australian television and film producer.
Ms. Byrne's supposed spiritual breakthrough consisted of little more than a synthesis of existing "positive thinking" theories based largely upon what is called the "law of attraction," essentially you get what you want if you wish hard enough for it.
Skeptic Magazine reporter Michael Shermer labeled Byrne's bromides "incredibly materialistic and narcissistic…magical thinking…"
But there is a rather dark flip side to the "law of attraction" through its apparent indictment of those that somehow are blamed for attracting negative things.
John Norcross, a psychologist and professor at the University of Scranton in Pennsylvania who researches self-help books stated within a news report, "So that would mean that if you're poor, you have somehow earned it by your thinking, If you've been sexually abused, you'd be surprised to hear that someway, you're responsible for that…Cancer victims. Sexual assault victims. Holocaust victims. They're responsible? The book is riddled with these destructive falsehoods," Norcross concluded.
Nevertheless many of Oprah's rapt devotees were ready to believe whatever "secret" she had to share, after all, who better than a billionaire talk-show host to lead them into the "promised land."
For decades Winfrey has cultivated a cult following. And millions of Oprah fans appear willing to do whatever Winfrey wants, whether it's buy a book or a DVD.
But this year has Oprah Winfrey "jumped the shark"?
Now she is enrolling her TV following to receive enlightenment.
That's right, USA Today reports that more than 700,000 Oprah fans have recently signed up for a 10-week Web seminar with their talk show sage and her latest guru Eckhart Tolle, author of A New Earth, yet another self-help book recommended by Oprah's Book Club.

However, this guru's bio is just a bit strange.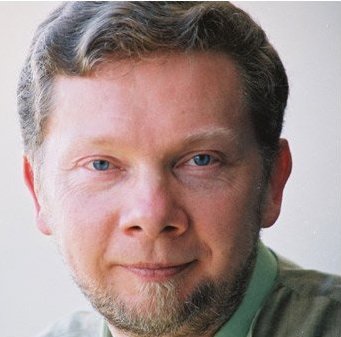 After a somewhat sketchy foray into academia and years of severe depression, Tolle (photo left) on his 29th birthday, found himself in the midst of suicidal despair. He has said, "I couldn't live with myself any longer" and Tolle "felt drawn into a void." It was at this juncture that his "mind-made self, with its heaviness, its problems, that lives between the unsatisfying past and fearful future, collapsed."
Then suddenly "the next morning " when Tolle woke up "everything was so peaceful" and he had "no explanation for this."
Some might observe that the young Tolle snapped and had something like a nervous breakdown, but according to Oprah's latest revelation, this is when her guru became "enlightened" (see Tolle interview)
To see how strange Tolle can be watch this YouTube clip.
Eckhart Tolle's version of enlightenment includes a belief in what he calls "painbodies."
Tolle's painbodies appear similar to what Scientologists call "Body Thetans" (BTs), a pesky, negative and nasty thing that should be shed as soon as possible.
Oprah Winfrey apparently has bought into this "magical thinking."
Has she been hanging out too much with Madonna and Tom Cruise?
But it just isn't enough for Winfrey to simply embrace such beliefs herself, she wants to proselytize and convert her television audience.
Are we witnessing the beginning of the Oprah Winfrey cult?
Hundreds of thousands of diehard Oprah fans that not only adore the star, but are willing to embrace whatever belief system she preaches and praises through her television talk-show pulpit?
It seems like that old Oprah, which audiences often identified with, is slipping away and a new identity is emerging.
Oprah may be shedding the cocoon of simple celebrity stardom to evolve into and come forth as something else–a kind of tranformational guru and televangelist.
Stay tuned, but don't "drink the kool-aid."
Note: CultNews (Rick Ross) has been a guest on the "Oprah Winfrey Show" twice (1989, 1992). And the old Oprah coffee mug still sits up on the shelf.