Canada's Globe and Mail (October 19, 2010) recently reported "Falun Gong wins legal fight to protest outside Chinese consulate."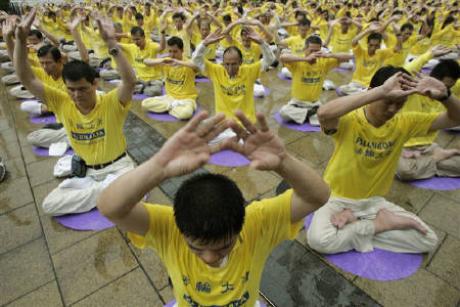 Specifically, an appeals court in British Columbia overturned a lower court ruling made last year regarding the removal of a "rudimentary hut" the group maintained around-the-clock outside a Chinese consulate for seven years.
However, the court also allowed the city of Vancouver six months to redraft its sidewalk bylaw. During that time, Falun Gong will remain under a court injunction, preventing its members from rebuilding their protest hut.
Not much of a victory for the controversial group.
But a local Falun Gong follower said, "In China, you don't have freedom of speech or basic human rights. But here, it's Canada, and we think we should be able to express our rights."
However, ironically Falun Gong doesn't seem to think that others have the right to "freedom of speech."
Samuel Luo of San Francisco, who ran a Web site critical of Falun Gong, sought help from the American Civil Liberties Union (ACLU) in 2005 after his domain provider received a letter demanding that they reveal his identity and contact information.
Falun Gong labeled Luo's Web site "defamatory" and "highly immoral," and accused him of "endorsing the inhumane treatment and killing of Falun Gong practitioners."
Their legal argument was couched in the claim that Luo had somehow infringed on Falun Gong's trademark by using its name on his Web site.
The ACLU stated that this "clearly did not violate trademark law."
Luo told the press, "They want to shut me down just because I criticize them."
Later in 2005, Mr. Luo was scheduled to be a speaker at a conference of the International Cultic Studies Association (ICSA) in Spain.
However, ICSA officials told Luo his presentation had been canceled after a lawyer representing Falun Gong threatened to sue them ("Falun Gong activists make appeals" San Gabriel Valley Tribune December 29, 2007 By Dan Abendschein).
How do these actions exemplify the values of "truth," "benevolence" and "forbearance" extolled by Falun Gong?
Like Scientology, another group that has been called a "cult," Falun Gong has become litigious, filing lawsuits against its perceived enemies and almost anyone that dares to criticize and/or seemingly obstruct its actions.
Falun Gong was denied participation in San Francisco's Chinese New Year Parade, they sued ("Falun Gong dispute hangs over S.F. Chinese parade" San Francisco Chronicle January 30, 2006 by Vanessa Hua).
Nevertheless, exclusion from the parade was upheld by the California Supreme Court ("State top court OKs excluding Falun Gong" San Francisco Chronicle August 22, 2008 by Bob Egelko).
In 2007 Falun Gong sought to enter a float in the Pasadena, California "Rose Bowl" through the "Caltech Falun Gong club," which was rejected ("Rose Parade caught up in Chinese politics" Daily Bulletin July 9, 2007 by Kenneth Todd Ruiz).
Later the group was refused a permit to stage its own protest march before the iconic parade ("Falun Gong members to sue Pasadena leaders" San Gabriel Valley Tribune January 3, 2008 by Kenneth Todd Ruiz).
It's easy to understand why Chinese community leaders have often resisted Falun Gong's participation in local events.
During 2008 Falun Gong launched a parade in New York City after an earthquake in China killed more than 60,000 people. Devotees displayed banners and placards that read "Only Without the Communist Party There Will Be a New China" and "Earthquake Cover Up Cost Lives."
Reportedly Falun Gong members were also discouraging donations and spreading rumors that the Chinese government would steal the money.
When the Falun Gong parade finally marched through the Chinatown district in Manhattan its members were booed. Some spectators gave the thumbs-down sign while chanting a derisive oath in Chinese. Water bottles were also thrown at some of the marchers
The recent Globe and Mail article reported, "the People's Republic of China…has jailed, tortured and executed many [Falun Gong] followers, according to human rights groups."
The Epoch Times, which is published by Falun Gong devotees, once reported that a hospital, in Shenyang City functioned as a death camp, claiming that thousands of Falun Gong prisoners were murdered and their body parts were then harvested.
Former Canadian Liberal MP David Kilgour said that he was convinced that these allegations were true.
During 2006 Kilgour and a lawyer named David Matas undertook an investigation and issued a report supporting such claims, which drew media attention.
However, the U.S. Congressional Research Service concluded that the Kilgour-Matas report "did not bring forth new or independently-obtained testimony and [relied] largely upon the making of logical inferences."
Harry Wu, a prominent US-based campaigner for human rights in China expressed skepticism concerning Falun Gong's claims, despite his dislike and distrust of the Chinese government.
Wu said, "I tried several times to see the witnesses, but [Falun Gong] said no." He further explained. "Even today, I don't know their names." Wu told the press that his investigators were never able to corroborate the claims of forced organ removals ("Harry Wu questions Falun Gong's claims about organ transplants" Asia News August 9, 2006).
One Canadian journalist, Glen McGregor, openly expressed skepticism about the Kilgour-Matas report ("Inside China's crematorium'" published by The Ottawa Citizen November 24, 2007).
McGregor wrote that there is tremendous political pressure placed upon Western journalists to accept such stories as fact, or potentially be labeled as a "Holocaust denier."
Falun Gong largely relies upon negative historical stereotypes of the Chinese Communist government and concerns about China's growing global influence to gain sympathy and garner attention within the United States, Canada and other Western countries.
Falun Gong's credibility regarding its claims about "death camps" largely rests upon this premise. That is, that those who distrust and/or harbor negative feelings about China should be sympathetic and believe Falun Gong.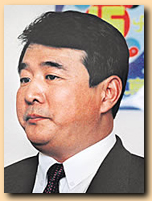 Li Hongzhi, the founder of Falun Gong (photo right) has claimed that he possesses supernatural powers and knows "the top secret of the universe" and that "no religion can save people" but the "almighty Fa," which he correctly and exclusively represents ("For Whom the Gong Tolls" The Washington Post February 27, 2000 by Peter Carlson).
Li also teaches his followers racist beliefs.
Master Li says that "mixed races" are excluded from the "truth" and "have lost their roots…They belong to nowhere, and no places would accept them¦the higher levels do not recognize such a human race."
Apparently this would include the current President of the United States and his children.
But thankfully according to Li even though the Obamas are purportedly "intellectually incomplete," he can "take care of it." That is, if the President and his family begin practicing Falun Gong and "cultivate" in accordance with his teachings.
Li Hongzhi also encourages the hatred of homosexuals.
He has said, "The disgusting homosexuality shows the dirty abnormal psychology of the gay who has lost his ability of reasoning at the present time," Li Hongzhi wrote this in Volume II of "Zhuan Falun," or "Turning the Law Wheel," which was translated into English during 1996.
In one talk in Switzerland Li said, gay men and women will ultimately be "eliminated" by "the gods."
250 Falun Gong devotees from Montreal, Toronto and Ottawa sued Les Presses Chinoises for defamation, claiming the newspaper produced "hate literature" against them by running a report, which was critical of the group.  After a long court battle an appellate court in Montreal refused to award damages (Cultic Studies Review Vol.: 07 No.: 03 2009).
But not a single Falun Gong devotee in the United States, Canada or Europe has ever spoken out against the hate speech or hate literature of Master Li. Instead, if this issue is brought up, they will attempt to change the subject to "human rights" violations regarding Falun Gong members in China.
But what about the human rights of everyone else?
Some newspapers have at times reported about the hateful teachings of Li Hongzhi often ignored by journalists.
A reporter for the San Jose Mercury News noted, "Li gets more extreme when he expounds on his teachings to followers in his numerous talks, some of which have not been translated, and in the second volume of his book, which is no longer available in English" ("A Chinese Battle on U.S. Soil" San Jose Mercury News December 23, 2001 by Sarah Lubman).
When that same California reporter confronted local politicians who had supported Falun Gong and/or its founder with his homophobic and racist statements, they appeared embarrassed.
California Congressional Representatives Anna Eshoo, Zoe Lofgren and Pete Stark joined 41 other lawmakers and signed an official letter praising Li for promoting the "highest humanitarian values" and recommended him for a Nobel Peace Prize.
When the reporter asked the California Congressional representatives whether they knew about Li's views on homosexuals and race before they signed the letter, all three said no.
"Obviously I wouldn't recommend to the Nobel Institute someone who's anti-gay, because that's a human right," Eshoo said. She subsequently rescinded her nomination, writing to the Nobel Institute, "Mr. Li has made statements that are offensive to me and are counter to many of my core beliefs."
Stark pleaded plausible ignorance. He said, "If Mr. Li holds views, which promote intolerance of any kind, I was not aware of it."
Lofgren also subsequently conceded that Li was not Nobel Prize material.
That same year Falun Gong was denied participation in San Francisco's Chinese New Year Parade ("Falun Gong dispute hangs over S.F. Chinese parade" San Francisco Chronicle January 30, 2006 by Vanessa Hua).
The "cult" sued yet again.
But its exclusion from the event was upheld by the California Supreme Court ("State top court OKs excluding Falun Gong" San Francisco Chronicle August 22, 2008 by Bob Egelko).
To date perhaps the most chilling example of the destructiveness of Falun Gong is the horrific event, which occurred in Beijing during January of 2001.
Five Falun Gong followers set themselves on fire in Tiananmen Square, reportedly to protest persecution by the Chinese government.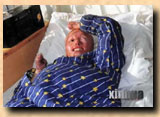 Two died, including a 12-year-old child. A young woman was also horribly disfigured and crippled for the rest of her life.
"We wanted to strengthen the force of Falun Gong," said Chen Guo (photo left), when interviewed in her home town of Kaifeng. Her face now a mass of grafted skin with no nose and no ears ("Survivors say China Falun Gong immolations real" Reuters April 4, 2002 by Jeremy Page).
Extreme devotion expressed by "cult" members willing to die for their leader, has been demonstrated historically by such tragic events as the mass suicide at Jonestown in Guyana, the Solar Temple deaths in Switzerland and the group suicide of "Heaven's Gate" in California.
But when Falun Gong was asked to explain the horrible self-immolation that took place in  Tiananmen Square, the group completely ignored its significance and assumed no responsibility whatsoever.
First, Falun Gong claimed that those involved were not practicing members.
Later, Falun Gong attempted to spin a story based upon an elaborate conspiracy theory.
When Canadian journalist Glen McGregor questioned what happened in Tiananmen Square Falun Gong devotees "dumped a pile of printed material in [his] lap and insisted [that he] watch a video that they claimed proved the self-immolation of Falun Gong in Tiananmen Square was a conspiracy orchestrated by the Chinese government to discredit Falun Gong."
CultNews likewise received the same material.
This level of denial is often understood within the framework of what is called "cognitive dissonance."
Cognitive dissonance is defined as the discomfort caused by holding conflicting ideas at the same time. The theory concludes that people need to reduce this dissonance and do so, by either abandoning certain previously held beliefs, through denial, some form of justification or simply blaming someone or something else for whatever has caused the conflict ("A Theory of Cognitive Dissonance" Stanford, Stanford University Press 1957 by L. Festinger).
This can be seen through Falun Gong's denials concerning the self-immolation in Tiananmen Square.
That is, Li Hongzhi's followers believe "Falun Gong is good," but suicide and killing children is bad, therefore the dissonance must be resolved by blaming the Chinese government.
But what the tragedy in Tiananmen Square demonstrates instead, is that Falun Gong is potentially unsafe and can be seen as a destructive "cult."