The Albany Times-Union reports that a former high-ranking member of NXIVM says  "the cult-like group" is little more than "a place for its leader [Keith Raniere] to explore opportunities for sex and gambling money."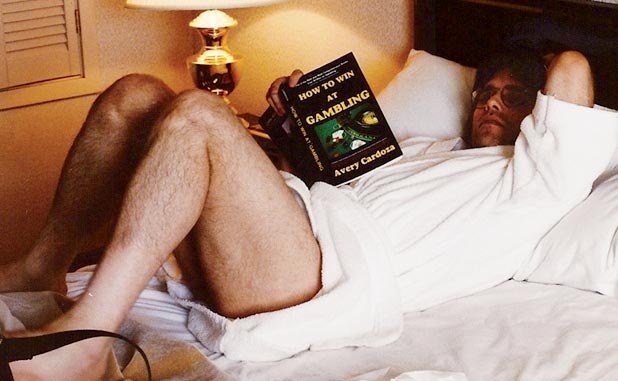 Former NXIVM follower Susan Dones states in court documents that Keith Raniere (photo above), known to his devotees as "Vanguard," uses the supposed self-help group  to help himself  to "students … who might fit into [his] profile of sexual conquest and who might be willing to 'give' [him] money to feed his gambling problem."
A New York blogger has all the court documents neatly linked here.
Court records in California corroborate that Raniere is "a man with many girlfriends and a gambling compulsion."
Dones the "whistle blower" says, "I was informed and believe that Raniere/Vanguard was having sexual relationships with multiple women, sometimes with more than one of them at the same time (many of these women were told that they were the chosen one; several of them were members of NXIVM's executive board which is a per se conflict of interest and all them had to keep their relationship with Raniere a secret from the NXIVM community because it was feared that many members were not 'evolved enough' to be able to deal with this information)."
"Evolved enough"?
Is that a Vanguard-speak euphemism for "brainwashed"?
At least one psychologist seemed to say as much in his report about "Executive Success Programs," the evolving process concocted by Keith Raniere.
Dones goes on to reportedly state that NXIVM leaders can do no wrong as they seek to teach ways to become "unified" — "whole and complete with no attachments to the outside world."
But doesn't this jargon read more like an internal contrived language about isolating and manipulating people through some bogus self-serving ideology?
Purportedly Raniere, NXIVM and friends are now shelling out about $1 million per month on a mountain of litigation, which includes suing former members and an assortment of perceived enemies (on the list is The Ross Institute of New Jersey sponsor of CultNews).
According to numerous reports ( e.g. Macleans Magazine) Raniere's penchant for gambling has thus far cost two heiresses to the Seagrams liquor fortune about $100 million dollars and counting.
The hemorrhaging of cash continues as Vanguard pours other people's money into the coffers of local attorney Stephen Coffey of Albany and the law firm of Latham & Watkins (attorney Robert D. Crockett) in California.