You have seen them in movies and on TV, but cults are more prevalent than you think and they are armed with strategies that can "brainwash" and gain undue influence over even the most unlikely of candidates.
But how do individuals get involved with destructive cults in the first place, and what steps can be taken for those concerned to intervene "deprogram" and heal those who have been drawn into these damaging groups?
These questions and more are addressed in Cults Inside Out: How People Get In and Can Get Out, written with the help of current and former cult members, Ross demonstrates many of the tactics destructive cults use for control and manipulation—and, more importantly, some of the most effective methods he and other experts have used to reverse that programming.
As a result, readers will find themselves armed with a greater understanding of the nature of destructive cults and an improved ability to assess and deal with similar situations—either in their own lives or the lives of friends and family members.
From the Manson family to Heaven's Gate, to multilevel marketing schemes, there are as many types of cults as there are leaders looking to control and manipulate.
Luckily the more people know and understand about these damaging groups, the less influential they will be–and Cults Inside Out exposes the inner workings of cults of all shapes and sizes.
About the author
For more than three decades, Rick Alan Ross has worked with current and former cult members, including participation in more than five hundred interventions. Along the way, he has learned the methods of these groups use to deceive and "brainwash" even the most unlikely individuals. Using real-life examples and first-hand accounts, this informative look at the world of destructive cults will arm readers with a greater understanding of the dangers of such cults–as well as providing valuable information about the intervention or "deprogramming" process.
Ross has consulted with the FBI, the BATF and other law enforcement agencies, as well as the governments of Israel and China on the topic of cults. Ross is a private consultant, lecturer and cult intervention specialist. He has been qualified and accepted as an expert court witness in eleven different states, including United States federal court. He has also worked as a professional analyst for CBS News, CBC of Canada, and Nippon and Asahi of Japan. He has appeared in thirteen documentaries and numerous network television interviews. Ross has been quoted by the media all over the world.
Rick Alan Ross is the founder of the Cult Education Institute, an online library and member of the American Library Association, whose database is one of the largest sources of information regarding cults on the Internet.
Comments about the book
"For any parent or family member searching for information about how to get a loved one out of a destructive cult, this book puts it all together — from the real nature of cults, to the right way to prepare for an intervention, to the actual experiences of a cult-buster who's been at the head of his field for decades."
–Tony Ortega, journalist and former Village Voice editor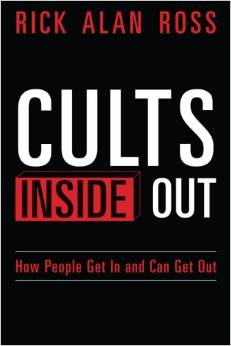 "Experts agree that thought reform is one of the greatest dangers to society and that the best defense is education. No person has done more to educate the public about its dangers then Rick Ross. When the media has needed explanations it has been Rick Ross providing the answers in simple easy to understand language. Now he has put it all into a book. Knowledge can be the best protection. And that's the best reason to read this book."
–Paul Morantz, author of "Escape: My Life Long War Against Cults"
"Rick Ross has provided us with a wealth of information in Cults Inside Out, which bears the fruits of his extensive knowledge and decades of experience in working with those who have been impacted by a destructive cult. His comprehensive review of the history from the 1970s to the present is much needed, given that many young people today are unaware of events that were headlines when they occurred, such as Jonestown and how they came about. There are many audiences for this book: people with loved ones in cults, former cult members, helping professionals looking to educate themselves, people working in the legal system, educators and others. This book also provides excellent guidelines for people who have decided to intervene with a cult-involved loved one and are seeking help. Ross presents his own approach in great detail, which is honest, educational, non-forcible and non-coercive – the opposite of what destructive cults do. I highly recommend this book for anyone who is interested in learning more about cults and how to help others or themselves to become or remain free of undue influence."
–Monica Pignotti, PhD
"In his masterful new book, Cults Inside Out, Rick Ross has delivered an exceptional and critically needed resource. He has gathered together in one comprehensive volume detailed, documented information about the diverse and growing number of controlling persons and groups preying on individuals, families and communities in the United States and worldwide. He brings to this impressive body of information his own expertise and first-hand experience spanning three decades helping victimized families. If you want to educate yourself, inoculate your family, and equip your loved ones with understanding and awareness about how predatory people and groups can steal their minds, their hearts, and their lives, read Cults Inside Out. Then make a gift of it to a friend."
—Flo Conway and Jim Siegelman, authors of
Snapping: America's Epidemic of Sudden Personality Change