It seems despite his global reputation and a Nobel Peace Prize, His Holiness the Dalai Lama of Tibet is having a hard time finding a school sponsor for an event in upstate New York.
However, apparently it isn't the Dalai Lama whose unwanted, but rather the company he has been keeping lately.
Specifically, it's a private for-profit company named NXIVM (pronounced Nexium, like the "purple pill for acid indigestion), that has been touting an Albany area series of events featuring the Dalai Lama as its "honored guest."
NXIVM is the brainchild of failed multi-level marketing guru Keith Raniere, who has been called a "cult" leader.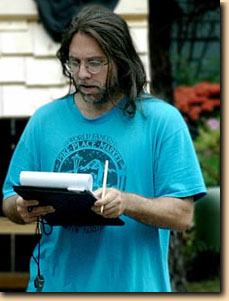 According to the Albany Times-Union despite Raniere's (photo left) undergraduate alumni status at Renselier Polytechnic Institute (RPI), that school was unwilling to sponsor a Dalai Lama event.
Likewise, Skidmore College turned down what appears to be a front group developed by Raniere known as the "World Ethical Foundations Consortium" (WEFC).
Longtime NXIVM supporter and "event organizer" Clare Bronfman, daughter of billionaire Edgar Bronfman Sr., told the Albany Times-Union that she thinks "Skidmore and RPI rebuffed organizers' attempts to bring the Dalai Lama to their campuses because of negative publicity about NXIVM."
"I've had many doors shut in my face," Ms. Bronfman said.
Skidmore spokesman Dan Forbush explained that the college had "scheduling difficulties."
RPI spokesman Jason Gorss advised in a written statement, "While we have the highest respect for the Dalai Lama and his teachings…we chose not to accept the invitation based on a variety of considerations."
Considerations?
There is consideration being given by the University of Albany to host the Dalai Lama April 20-22, but this is "not finalized," according to the Albany Times-Union.
What is reportedly at the "heart" of the whole WEFC program "is a unique scientific process, developed by Mr. Raniere and imparted by NXIVM, which is designed to facilitate bringing compassionate ethics to the forefront of humanity."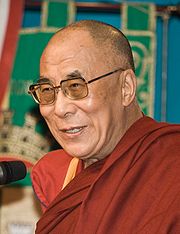 It appears that this may also be at the heart of why two prominent schools rebuffed His Holiness as packaged by the WEFC.
It seems that Mr. Raniere may be using both this upcoming event and the Dalai Lama (photo right)  to promote his "process" sold through NXIVM training, which a noted psychologist and leading cult expert compared to "thought reform," commonly called "brainwashing."
The Albany Times-Union reported that according to Bronfman "a representative of the Dalai Lama went through NXIVM's training."
Perhaps the school administrators rebuffed the WEFC program because they recognize the distinctions between thought reform and education, and education is the process they prefer.
After all, many colleges have historically expressed concerns about allowing "cult-like" groups easy access to their students, and it seems this also includes a group that may have somehow convinced the Dalai Lama to come along.
Update: The Albany Times Union has provided further details regarding the upcoming visit of the Dalai Lama as the "honored guest" of a "consortium" founded by NXIVM leader Keith Raniere.  Sara and Clare Bronfman stated at a press conference that "world leaders, royalty, scientists, academics and dignitaries are expected in Albany for the Dalai Lama's appearances…" What about NXIVM's history of bad press and controversy? Clare Bronfman responded, "There are many people who have a great amount of resources to look into NXIVM who want to come and have put a lot of time and resources into doing a lot of factual checking. They're still coming." Her sister Sara proclaimed that this event will "change the face of Albany" and "put Albany on the map."
Endnote: Chet Hardin, a reporter for Metroland an upstate New York weekly, is questioning the way the Albany Times-Union has historically covered NXIVM. Hardin seems to think that the newspaper has largely caved in to pressure from NXIVM, curtailing and tailoring its coverage to avoid threatened litigation.
Final note: In the end according to the Albany Times-Union "The Dalai Lama…canceled his scheduled April appearances in Albany, apparently because of negative publicity connected to the sponsoring organization."