Whoever once said, "there's no business like show business" probably didn't know about the "cult" business, with only a few devoted followers you can accumulate millions of dollars quite quickly (not to mention tax-exempt status).
Witness the financial success of former psychologist Peter Bowes and his sidekick Clare Watts, now known as the dynamic duo "Father Peter" and "Mother Clare."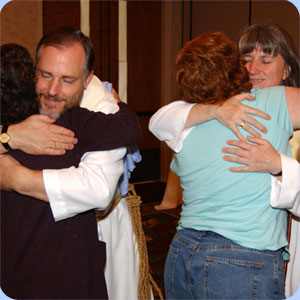 The pair, both formerly members of a purported California "cult" called the "Holy Order of Mans," started up their very own religious organization the "Order of Christ Sophia" (OCS) also known as the "Centers of Light," which has been called a "cult."
Essentially OCS is a copy of the Mans group with one big difference, instead of Earl Blighton (deceased); a former electrician responsible for training and ordaining Bowes, it's Bowes and Watts that run this group.
And Blighton's "spiritual" progeny have apparently put together a similar scheme not much different from the now defunct Mans order, which accumulates assets and cash largely through group housing, labor, tithes and offerings.
OCS opens "houses" for its members who pay rent to the order and tithes. The group, which has been called a "cult," has successfully set up such housing in Boston, Atlanta, Dallas, Milwaukee, Minneapolis, New Haven, Seattle and Oakland.
Bowes and Watts have their own personal houses. Bowes keeps a private place in Oakland next to the "Order House" there and Watts has her digs near Seattle.
With less than 200 active members OCS has already accumulated millions of dollars in assets at a breathtaking pace.
Last year OCS bought a historical house in Milwaukee for $909,000 and this year they topped that by purchasing a retreat in Colorado for more than a million.
"Mother Clare" reportedly raised approximately $1,225,000 from her "parishioners" for the down payment.
Avatar Financial Group helped her out by providing transitional financing to the tune of $1,725,000.
The company reports, "The retreat and conference center sleeps 60 and seats 100+. There is a beautifully appointed 7-year old lodge and bunkhouse on 30 acres of inspiring Colorado landscape. The property is in excellent condition and both the Lodge and Bunkhouse are fully equipped to continue to be a turn-key event and retreat center."
Wow! And to think that only a few short years ago before going full-time as a "Master Teacher" at OCS Peter Bowes surrendered his license as a clinical psychologist in Wisconsin, effectively ending that career choice after complaints were filed against him by former clients.
It just goes to show that there's no business like "cult" business.
With less than 200 followers paying rent, doing remodeling work on OCS properties shelling out tithes, offerings and seminar fees Bowes and his associate Watts have built a spiritual empire worth millions.
The pair jets around the country ministering to their minions, though they manage to find some downtime to relax in Italy.
What a life!
However, for the families of many current OCS members the supposed "spiritual" teachings of this duo appear to be devastating.
Parents say they have been cut off from the children.
According to one estranged mother Bowes and Watts "use deception, mind control, hypnosis, all kinds of devious tactics to get you to follow them blindly."
Whatever the pair practices though one thing is for sure, it has proven to be quite profitable.