Scientology may be moving in on the Mayor of San Francisco. 
Scientologist John Travolta and the Mayor Gavin Newsom will be "exchanging gifts" at a Quantas Air promotional event tonight reports SFist.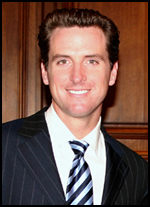 John Travolta is a pretty good proselytizer, he once recruited Elvis's ex Priscilla Presley for the controversial church, has he now set his sights on the mayor by the Bay?
Newsom's new girlfriend Sophia Milos, star of CSI Miami, is also a Scientologist.
So is Scientology triangulating or is this just a coincidence?
Will the two Scientologists become a tag team to take down the mayor for their hero L. Ron Hubbard?
Meanwhile the supposedly savvy politician should know that Scientology continues to be the butt of jokes on TV.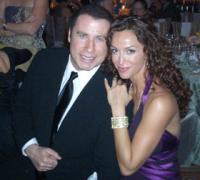 The "gloves are off in a take-off on the Scientology/Kabbalah wave among the celebs" at Tori Spelling's new VH1 series "So Notorious" reports Linda Stassi for the New York Post.
In the second episode the former "90210" teen's boyfriend belongs to a cult that "recruits rich celebs and gay stars and hooks them up with hot women." And there is "no doubt just who and what Tori and Co. are poking fun at" says Stassi.
Alluding to Scientology and Tom Cruise's alleged showdown with South Park the Post writer ponders whether or not this episode be pulled?
Hey, wasn't star John Travolta rumored to be gay, until he hooked up with hot Kelly Preston?
And it seems that there is also hope for a divorced mayor to find "hot women" amongst the Scientology faithful.
Mayor Newsom may be hooked, but at what cost to his political career?
It's obvious what he sees in Sophia Milos, but is affection the only thing she wants fom Gavin Newsom, or is there something else the actress expects for Scientology?