Some might say Madonna needs a proverbial "love shack" to rekindle the flame of her failing marriage, but instead the 47-year-old pop diva is scouring a certain area in Israel looking for any "old shack" for religious purposes instead.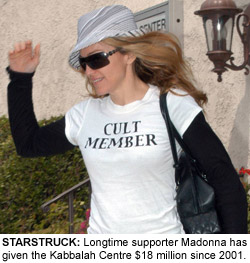 Like so many things the former "Material Girl" does these days her latest foray into the Israeli real estate market is motivated by her obsessive devotion to the Kabbalah Centre, run by Philip Berg and his family.
This piece of property must be a "house overlooking the Sea of Galilee at the place where followers of her Kabbalist faith expect the Messiah to reappear" reports the Sunday Times.
It seems that someone representing the star phoned quite a few homeowners in the area making hefty offers.
One woman who owns an old stone cottage in this designated space for future miracles says she will happily sell her home to Madonna for double the going price, a cool $1 million dollars.
The pop star supposedly wants to renovate whatever property she picks up into a reading room for her Kabbalah cronies.
Meanwhile Abba star Bjorn Ulavaeus, the man that sold Madonna the hook for her latest hit, blasted celebrity-driven religious trends.
"The Waterloo hit maker believes musicians exploit fashionable belief systems such as Scientology and Kabbalah, because they want to impress their fans" reports Web India.com
"Many artists are trend-sensitive. They travel a path that they believe can benefit their career," he said.
Snuggled down in sensible Stockholm perhaps Ulavaeus doesn't realize that artists are just as vulnerable to cult "brainwashing" as anyone else.
And it appears that Madonna, under the influence of the trendy Kabbalah Centre, has made it the center of her life.