Madonna can't seem to convert her brother from Catholicism to the Kabbalah Centre, despite all her money and potential for future gift giving reports Jeanette Walls at MSNBC.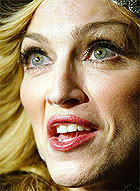 It seems that the star set her own brother up to be ambushed by her Kabbalah cronies.
"She took me to her house and all of the teachers were there and I just listened," says Christopher Ciccone.
But the "Material Girl's" sibling rejected the proselytizing effort and warned "anything that's organized can become very cultish."
Ciccone has apparently decided to stick it out with his family's traditional Catholicism rather than sign on with the Kabblah Centre, which has gained "cult status" in Hollywood.
Could it be that even Madonna's brother realizes that his sister's religion is a fizzled pop fad?
Lately with all the media attention focused on Scientology, Hollywood's older more established "cult," Madonna and the Kabbalah Centre seem to have been virtually forgotten.
Perhaps the singer's new tour will garner attention for the religion that she has tirelessly promoted, much like Scientology's "Top Gun" Tom Cruise.
Madonna's Confessions Tour begins in Los Angeles later this month. The 47-year-old diva will be promoting her 2005 album, which did better in Europe than the United States.
So-called "celebrity cults" such as Scientology and the Kabbalah Centre seem to depend greatly upon stars, but as the public's interest in these celebrities wanes, so may fascination with their respective sects.
Tom Cruise and Madonna have served as leading lights preaching about their religious groups, but both these stars burned far more brightly during the 1980s. Now the two middle-aged icons are dimming and the "new religious movements" they hawk may need to find some fresh superstars or learn to depend upon such status less.
Cruise's star status wasn't compelling for his MI-3 director J.J. Abrams.
"I was aware that Tom was such a huge part of that (Scientology) thing, so very early on, when we started hanging out together, I was very clear with him that (Scientology) was not going to be my path," Abrams says. "I'm Jewish, my wife is Catholic, and we've got our own system" reported the San Francisco Chronicle. 
Could it be that Christopher Ciccone and J.J. Abrams are onto something?
Why bother with some new Hollywood religion when you already have a more established faith that has withstood the test of time?