Los Angeles County Sheriff Lee Baca's office was picketed May 6th in response to his ties to Scientology.
First stop for the group of weekend protesters was the sheriff's Monterey Park office.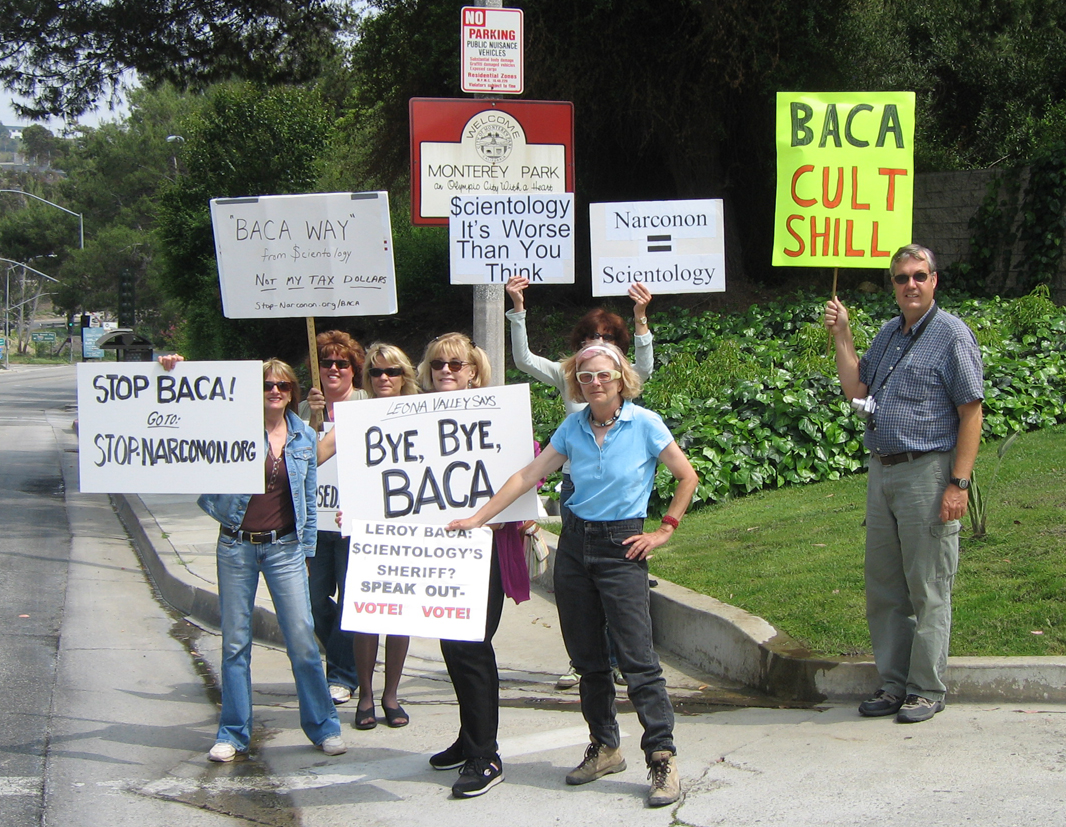 The next stop for the Scientology critics was a protest in front of a Hollywood Boulevard Scientology building that houses the church's notorious "Office of Special Affairs."
Sheriff Baca has become a repeat booster of Scientology-linked programs such as Narconon.
In January of this year, the sheriff wrote the Los Angeles County Department of Regional Planning to support Narconon's application for a new facility in Leona Valley. He also was spotted at an event sponsored by ABLE, the Scientology-linked umbrella organization over Narconon. 
The Sheriff's consistent support of these organizations is puzzling considering all the bad press they have received and open criticism from other California officials.
During 2004 school district officials in Los Angeles ordered a review of Narconon warning teachers that its instruction "is not based on science."
Maria Reza, the district's assistant superintendent of student health and human services, sent a memo to all Los Angeles schools stating, "The information that is delivered in (Narconon's) presentations is not based on science, and there have been serious questions raised about the accuracy of this information."
Narconon ceased to be a regular program in San Francisco schools after critical articles were run within Bay area newspapers questioning the accuracy of its presentations to students.
"The facts that they were teaching the kids support a philosophical or religious belief, as opposed to science, so we had to say 'no,' " School Superintendent Arlene Ackerman told the San Francisco Chronicle almost two years ago.
However, despite all this publicity regarding Narconon Sheriff Baca not only accepted an award from ABLE, but also continued to support Scientology-linked programs.
CultNews previously reported that Baca appointed Scientology's apparent President for life Heber Jentzch to a slot on his "Executive Clergy Advisory Council."   
Then the sheriff "spearheaded" the "6th Annual Multi-Faith Prayer Breakfast," which included Jentzch along with Scientologist and sitcom star Jenna Elfman. The former "Dharma" gave a speech pitching yet a Scientology-linked program called "Criminon."
Baca also dropped in at a special fundraiser for another Scientology-linked project called "Youth for Human Rights International" run by Scientologist Mary Shuttleworth according to a recent press release.
The Sheriff and his wife both sat down to an elegant "gourmet dinner for a select one hundred and twenty guests" at Scientologist and actress Anne Archer's Brentwood mansion.
It's nice to be the Los Angeles County Sheriff.
But now Baca faces a backlash. His office has been picketed by protesters that don't think a public servant should pander so preferentially to one religious group, especially one as controversial as Scientology.
And that religion has become something of joke; between the antics of its "Top Gun" Tom Cruise and the cartoon show South Park's face off with the church.
Ever since the advent of the Internet Scientology's secret teachings aren't so secret anymore. This includes the bizarre belief that space aliens came to earth from outer space 75 million years ago, sent here by an evil warlord named Xenu, according to church documents now readily accessible.
Scientologists like Tom Cruise believe that the spiritual residue of these alien beings continues to affect humanity today.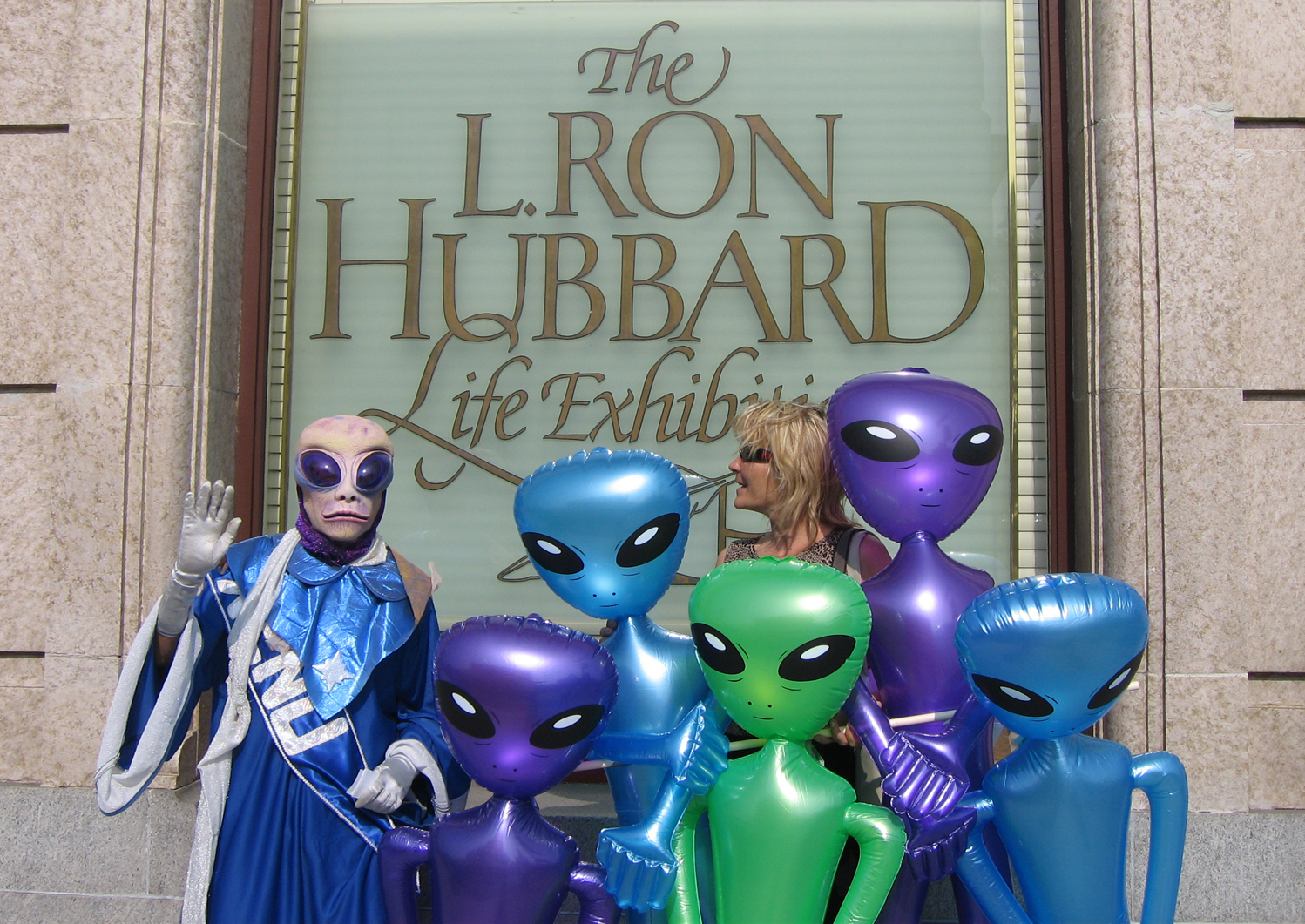 South Park had some fun with this theology in its episode "Trapped in the Closet," not unlike the protesters last week, who had their own Xenu pose for pictures in front of "The L. Ron Hubbard Life Exhibit."
Hubbard is the founder of Scientology who not surprisingly was previously a Sci-fi writer before he became a religious prophet.
But Sheriff Baca doesn't seem to be laughing. Instead, he apparently takes Scientology's beliefs rather seriously.
Of course the church, which has its share of rich celebrities like Lisa Marie Presley and John Travolta, can well afford to take good care of its friends.
Has Baca made some sort of pact with the Sci-fi religion many consider a "cult"?