Pop goes Kabbalah, and the bubble of Madonna's second marriage appears ready to burst. The 1980s disco diva is about to launch another tour and was photographed without her wedding ring reports Jeanette Walls for MSNBC.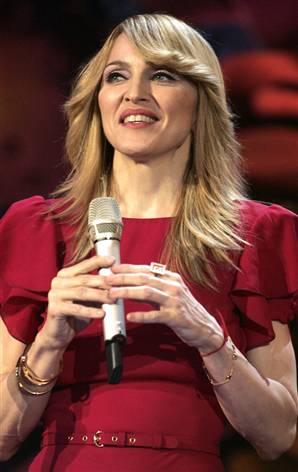 As pictured the star has the traditional amulet known as the "Kabbalah red string" on her wrist, but no wedding ring.
So it seems that the controversial religious group called the "Kabbalah Centre," adopted by Madonna a decade ago may have taken its toll and on her marriage. And that object of devotion is apparently more important to the "Material Girl" than her marriage to British film director Guy Ritchie.
Lately Madonna has been living in LA where she is within driving distance to her mystical mentor Philip Berg and his family. The Bergs inhabit three mini-mansions located in Beverly Hills. Many of the rich and faithful Kabbalah Centre flock live around or near this seemingly sacred family.
However, it has been rumored for some time that the 47-year-old icon's hubby has grown increasingly weary of his wife's religious devotion to the group she appears to rely upon.
Ritchie and Madonna now seem to barely inhabit the same space, either figuratively or literally.
Madonna's brother Christopher Ciccone, who the star has failed to convert to her faith, told the press, "It's the children that will keep them together. The children are everything to them."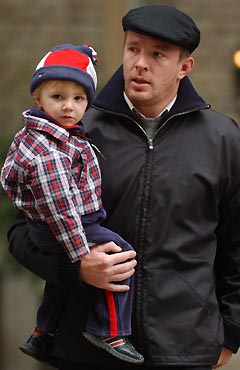 But will the kids really be enough?
It looks like husband number two will eventually join that exclusive club chartered by Sean Penn, as the second ex "Mr. Madonna."
It took Penn time to recover, but he ultimately remarried, started a family and picked up an Oscar.
Though unlike the actor, Ritchie will be tied to Madonna through their son Rocco, which could potentially become a contentious situation if the aging diva wants to drown her child, so to speak, in "Kabbalah water."