A man with long-standing ties to self-proclaimed "messiah" Rev. Sun Myung Moon will soon become the new  Executive Vice President and Chief Operating Officer of Liberty University, an "independent Baptist" school founded by Jerry Falwell in 1971.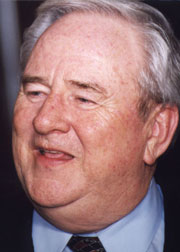 Dr. Ron Godwin, formerly a Senior Vice President at the Moon-controlled newspaper the Washington Times, will begin his new role of managing the "everyday responsibilities of running the university" in Lynchburg, Virginia at the beginning of next month reported The Liberty Champion.
Rev. Moon has given millions to Falwell's school.
The North Korean businessman and purported "cult leader" funneled $3.5 million dollars to the university through his "Women's Federation for World Peace" and the Christian Heritage Foundation run by Falwell friends to help relieve the school's debts in 1995 reported Robert Parry.
Soon Moon may become more than a donor, when his old crony Godwin takes over this summer. 
In 1992 Godwin was exalted by Moon's followers "as very precious" for "uniting with Reverend Moon's ideology."
But the Unification Church leader seems like a strange friend for Jerry Falwell.
In a bizarre ceremony during 2004 Moon had himself crowned in Washington D.C. And the year before that he claimed that 36 dead U.S. presidents, from George Washington to Richard Nixon, endorsed him through "spirit world" conferences.
No less than Thomas Jefferson supposedly proclaimed Moon "the Messiah to all people, who has appeared in Korea."
But isn't Jesus the only messiah for a Baptist minister such as Rev. Jerry Falwell? 
It appears Falwell may want a "messiah" with money.
Godwin has served both Moon and Falwell, furthering his career through both their interests and apparently allowing both men to become his mentors.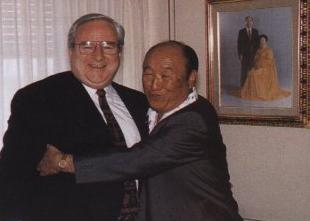 A professor at Liberty University during the 1980s Godwin took a job at the Washington Times in 1986. He also once served as Executive Director and Executive Vice President of Falwell's "Moral Majority" and was contributing editor of its newspaper according to his bio.
However, despite all the practical benefits a rich "messiah" can provide the mission statement of Liberty University seems far less concerned with pragmatism than faith. According to its statement Falwell's school serves a higher purpose as "a Christian academic community in the tradition of evangelical institutions of higher education."
Liberty says it wants "to produce Christ-centered men and women…[through] the synthesis of academic knowledge and Christian values" and that it "points people to Jesus Christ as…personal Savior."
How does Rev. Moon's brand of religion fit into this?
Well, Moon was the "savior" of another university in Connecticut.
In 1992, through the "Professors World Peace Academy," Moon's Unification Church supplied the money to keep the University of Bridgeport open. But in exchange the school's savior wanted control. He now names 60% of its Board of Trustees and the university president is one of his loyal followers, often called "Moonies."
Maybe Godwin has some special plans for a new sort of "synthesis" at Falwell's school?
Perhaps this will be the beginning of a new era for Liberty University?
Has Jerry Falwell's school been "saved" by a new "personal savior," that has enough cash to insure the aging minister's legacy?