After an eleven day manhunt and with the authorities hot on his trail and closing in, fugitive and former Landmark Education leader Darren Mack surrendered at a hotel in Puerto Vallarta, Mexico reports The Reno Gazette.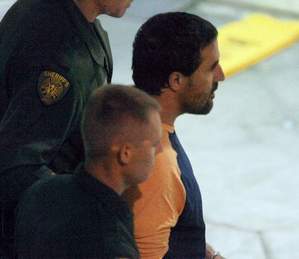 Mack was wanted for the brutal murder of his wife Charla in Reno, Nevada.
Mrs. Mack, like her estranged husband, was very active and deeply involved in Landmark, a controversial self-improvement seminar-selling company headquartered in San Francisco.
Darren Mack was a multi-millionaire from a rich family that made its money in the pawn broker business.
Mack is also wanted for the sniper shooting of the family court judge that awarded his wife substantial alimony payments and child support.
Friday the former fugitive was flown from Mexico to Dallas where he was booked. Later Mack was taken back to Nevada where he was met at the airport by an armored SWAT van carrying five officers armed with assault rifles.
Once a rich man worth more than $10 million dollars Mack seems marked for either a long stay in prison or perhaps a death sentence.
Cultnews previously reported that at least one of Mack's Landmark cronies posted a message to him on the Internet at his Myspace site.
That message said, "Darren, I know you from Landmark Education¦I just wanted to remind you about what you used to teach others – about integrity and completion of the past and affinity. Remember? You know you're driving yourself crazy with all the things you're telling yourself. You also know the only way through this is through it. I know you have the ability to get this complete…"
It seems the "only way through this" for Mack will be the courts and a prison term to "complete."
Whatever "breakthroughs" he may have once sought through Landmark training to benefit his marriage, it ended in murder.
And despite his former stature and influence within Landmark, it appears doubtful that Darren Mack will ever be touted as one of the company's "success stories" again. 
Note: Later in August Art Schreiber, General Counsel for Landmark Education, contacted CultNews to make a distinction regarding the status of Darren Mack and his history with the company. Schreiber said, "Mr. Mack did lead one of our many programs for several years but ceased being a Landmark leader in November, 2002…"