Rev. Sun Myung Moon, leader of the Unification Church and self-proclaimed "messiah" controls a financial empire worth billions of dollars and wields substantial political influence through the Washington Times  and other media interests that he controls including United Press International UPI.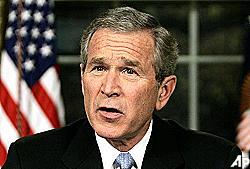 Moon has long been friendly with the Bush family and has given millions in honorariums to the first President Bush, who has jetted around the world to speak at venues connected to his interests.
Now it seems that the man many have called a "cult leader" hopes to get something more than just a few speeches,  political appointments, and VIP seating from the Bush family.
Moon was convicted for tax fraud in 1982 and subsequently served 13 months in Danbury federal prison.
But the dual roles as both convicted felon and "messiah" seem to bother the 86-year-old South Korean, who probably wants to clean up his legacy through a presidential pardon.
It's getting down to crunch time.
And unless Moon dies before the second President Bush leaves the White House, relieving him of what could be an awkward obligation, expect a pardon at the President Bush's second term.
Moon has labored long and hard to lubricate the Oval Office, greasing the "Presidential Pen," so to speak.
One example of "messianic" largesse recently discovered was a $1 million gift to the first President Bush's library at Texas A&M reports the Houston Chronicle.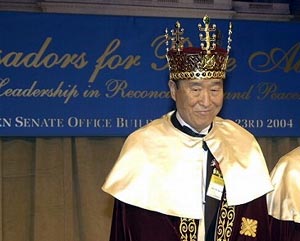 Moon funneled the million from the Washington Times Foundation through the Greater Houston Community Foundation to the Bush library foundation.  
This octogenarian "messiah" may not walk on water, but he knows how to float money.
Larry Zilliox of Maryland a long-time Moon critic and cult researcher uncovered this interesting cash flow.
President Bill Clinton was criticized for handing out some pretty controversial pardons on his way out of the White House.
Will the end of President Bush's second term produce an equally if not more controversial pardon as pay back to Rev. Moon?