National Heritage Foundation (NHF), a controversial charity with an interesting history run by the Houk family, has gone bankrupt.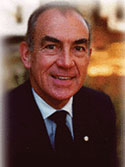 In a letter published late last month CEO J.T. "Dock" Houk advised (photo left), "NHF has filed voluntary petitions for reorganization under Chapter 11 of the U.S. Bankruptcy Code in Virginia on January 24th. The plan is subject to Bankruptcy Court approval…"
Houk also shared the following tidbits:
1. "We cannot make any new disbursements from our foundation accounts until further notice…"
2. "Many of the donation checks issued but not presented for payment until recently will not be honored by our bank."
Does this mean that NHF knowingly passed potentially bad checks?
Or, was this simply an example of the general incompetence and mismanagement, which led to bankruptcy?
Houk blames his troubles on "this recession" and insists that he is only "restructuring."
However, Houk and his charity have a troubled history as reflected by the documents and articles gathered within the Ross Institute Internet Archives about the organization.
NHF has been around since 1968 and Houk claims it has handed out "nearly $1 billion…since its inception."
But NHF has also been something of a watering hole for the Houks.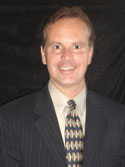 "Dock" Houk is CEO, Mom Houk serves as Chief Operating Officer, son "Tick" is President (photo right) and both the Houk's daughter and daughter-in-law have served as Vice Presidents.
It seems that this "charity" is run like a family business, with the Houks collecting salaries and expenses through its ample cash flow.
Is the Houk clan following in the footsteps of the notorious Baptist Foundation of Arizona, which bilked 11,000, mostly elderly investors out of $600 million?
Former executives of that foundation were ultimately sentenced to prison time and ordered to repay hundreds of millions of dollars for defrauding their fellow Baptists in a botched financial scheme that bankrupted that non-profit organization.
Or are "Dock" Houk and his son "Tick" more like alleged fraudster Bernard Madoff, who fed off those that trusted him in what has been described as an elaborate 50-billion-dollar "Ponzi scheme."
Whatever questionable financial practices might have passed for "business as usual" within NHF will now hopefully be carefully scrutinized through the federal bankruptcy proceeding.
This story could become quite interesting.