CultNews has been reporting for some time about a "human potential" large group awareness training (LGAT) company called NXIVM (pronounced Nexium) also known as "Executive Success Programs" (ESP) located in Albany, New York.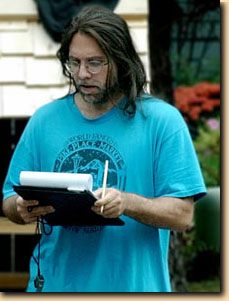 NXIVM/ESP devotees often call themselves "Espians." A failed multi-level marketing guru Keith Raniere (photo left), who goes by the title "Vanguard," leads them.
NXIVM has been called a "cult" and described as "extremely dangerous" by its critics.
Raniere historically has the dubious distinction of being featured on the cover of Forbes magazine in 2003 as the "world's strangest executive coach."
The Forbes article titled "Cult of Personality" reported, "people see a darker and more manipulative side to Keith Raniere. Detractors say he runs a cult-like program aimed at breaking down his subjects psychologically, separating them from their families and inducting them into a bizarre world of messianic pretensions, idiosyncratic language and ritualistic practices."
One of those families affected by the influence of the self-proclaimed "Vanguard" is the Bronfmans, specifically the two daughters of billionaire Edgar Bronfman Sr., of the Seagrams fortune.
Clare and Sara Bronfman are major backers/supporters of various Raniere enterprises, one, which apparently and surprisingly includes His Holiness the Dalai Lama as the "guest of honor."
Acting through what seems to be little more than a thinly veiled front group called the "World Ethical Foundations Consortium (WEFC)" founded by Raniere, the Bronfmans have somehow managed to convince the Dalai Lama to become involved in an upcoming group event on April 19th to be held in Albany, New York.
According to the WEFC the "Event Organizing Committee" is comprised of Sara Bronfman as the "Event Chair," her sister Clare as "Event Organizer," another active Espian named  Edgar Boone as its "spokesperson" and an official representative of the Dalai Lama.
Both of the Bronfmans are also "co-founders" of WEFC.
The so-called "Inaugural Event" of the WEFC will feature the Dalai Lama who will "participate," according to the WEFC Web site.
Lama Tenzin Dhonden, "Personal Emissary for Peace to His Holiness the Dalai Lama" gushes,  "With the ethical tools developed by Keith Raniere, and the presence, wisdom and guidance of His Holiness the Dalai Lama, we have the essential ingredients to transform our society."
But isn't this an odd tag team for world transformation?
The Dalai Lama is certainly a heavyweight, he is after all an international figure with a Nobel Peace Prize.
But Keith Raniere hardly ranks as even a featherweight on the world stage. His only claim to fame seems to be the notoriety he achieved during the 1990s through his failed multilevel marketing scheme known as Consumers Buyline Inc., which was toppled under the weight of 25 separate investigations by state attorneys general.
Of course Raniere sees himself quite differently as visitors to the WEFC Web site can read. His rather strange bio posted there claims that he is a "scientist, mathematician, philosopher, entrepreneur, educator, inventor and author" who "from early childhood…demonstrated astounding gifts." The bio also boasts a long list of alleged accomplishments, from becoming  a "judo champion at age of 11" to somehow managing to be recorded as the "highest IQ."
Modesty, it appears, is not one of Vanguard's virtues.
Ironically, Edgar Bronfman Sr., who once told Forbes that NXIVM is a "cult" now apparently has allowed his name to be used endorsing Raniere's latest enterprise. 
Bronfman Sr. is quoted to have more recently said, "Convening this group of leaders in Albany for the World Ethical Foundations Consortium is a noble effort."
Not to be outdone British tycoon Sir Richard Branson, founder of the Virgin Group, extols the coming event as "extraordinary and potentially world changing!"
Gerald Jennings, Mayor of Albany says the Dalai Lama's planned visit is a "historic event."
Well, a father's love cannot be discounted, Sir Richard Branson has always been a bit of an eccentric and any mayor is happy when someone important drops by to give his or her city some added recognition.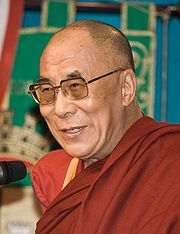 But what explains the Dalai Lama (photo right) lending his name to this purported "cult" effort?
According to the Albany Times-Union  tickets for the event "will cost $52, $82 and $112" and the "proceeds go to cover the cost of the event. Anything extra the Dalai Lama can donate to the charity of his choice."
The venue for this is the Times-Union Center, which unless the fee has generously been waived, would be part of "the cost of the event."
Fund raising can often make strange bedfellows.
But maybe His Holiness or one of his charities also expects to be the happy recipient of a hefty donation from one and/or both of the Bronfman sisters too?
If so, this wouldn't be the first time the Clare and Sara Bronfman have doled out cash acting as seeming surrogates for Raniere. Previously, their generous contributions appeared to be focused on garnering NXIVM some political clout, as reported by the New York Post. 
Maybe the Bronfmans have shifted gears to get Vanguard some pull within religious circles?
The Dalai Lama should seriously consider the negative consequences that NXIVM programs have reportedly produced.
Past participants in Raniere's trainings have subsequently sought psychiatric treatment, one was hospitalized and another tragically committed suicide.
CultNews strongly suggests that someone in a position to advise His Holiness read the reports produced by two well-respected doctors that reviewed Keith Raniere's training programs.
See the following:
"A Forensic Psychiatrist Evaluates ESP"
"A Critical Analysis of Executive Success Programs Inc."
"Robert Jay Lifton's eight criteria of thought reform as applied to the Executive Success Programs"
So before the Dalai Lama packs for a trip to Albany perhaps he should meditate upon the last written words of Kristin Marie Snyder, who took her own life after walking out of a NXIVM intensive in Alaska.
"I was brainwashed and my emotional center of the brain was killed/turned off. I still have feeling in my external skin, but my internal organs are rotting. Please contact my parents … if you find me or this note. I am sorry life, I didn't know I was already dead. May we persist into the future…No need to search for my body."
Is this what the Dalai Lama really considers the "essential ingredients to transform our society"?
Note: The Ross Institute (sponsor of CultNews) is engaged in litigation with NXIVM.  Keith Raniere has unsuccessfully attempted to use the courts as a means to purge information that he doesn't like, such as the above cited doctor's reports, from the Internet.
Final note: In the end according to the Albany Times-Union "The Dalai Lama¦canceled his scheduled April appearances in Albany, apparently because of negative publicity connected to the sponsoring organization."