The Ross Institute of New Jersey (RI) has been a pioneer regarding free speech on the Internet and has faced legal challenges over the years, which have set significant precedents.
But before discussing the specific lawsuits filed against RI by controversial groups, some general historical background seems appropriate, to better understand the inception, purpose and function of RI (sponsor of CultNews) and its Internet archives.
Background
In 1995 I (Rick Ross photo below left) launched the Web site, culteducation.com. This was initially a personal effort to share collected files with the general public gathered about controversial groups and movements, some that have been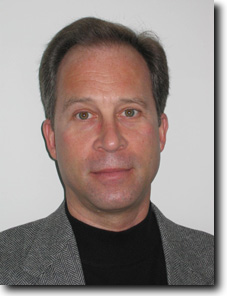 called "cults."
RI also features a virtual library with hundreds of books made available online through Amazon.com and a public message board that contains the personal comments and recollections of thousands of people affected by controversial groups and movements.
Thousands of individual unique users visit the site daily.
RI is an educational nonprofit corporation recognized by the United States government as a tax-exempted charity.
The advisory board of RI includes noted cult experts in the United States, such as Ford Greene, a California attorney specializing in cult-related litigation, as well as Flo Conway and Jim Siegelman, co-authors of the books Snapping: America's Epidemic of Sudden Personality Change. Psychologist Margaret Singer, one of the most well-known cult experts of the 20th Century and author of Cults in Our Midst, was an advisory board member until her death.
RI functions as an online library and an institutional member of New Jersey Library Association (NJLA). Established in 1890, the NJLA is the oldest and largest library organization in the state of New Jersey.
RI is a collection of Web sites, which includes this blog, Cult News Network a links sharing page featuring breaking news stories about cults, controversial groups, movements and CultEducation.com featuring educational DVDs and a virtual library. The "Open Forum" or public message board, which now contains more than 75,000 individual entries in its database.
There is also a "Links" page with hundreds of hyper-links to other relevant resources available on the Internet.
This array of resources provides a multi-layered approach to the subject of cults, controversial groups and movements and related topics. A combination of recent news, personal first-hand accounts and growing permanent archives composed of in-depth articles, research papers and court documents.
The basis for inclusion within the archives is as follows:
1.      A group, movement or leader has become noteworthy by generating interest either through news coverage and/or through an individual/family situation.
2.      A subject, which generates a number of press accounts and/or court documents, may then become an individual subsection within the archives with related material made readily accessible there.
3.      A subsection on the Links page might also be added with listed links to Web sites elsewhere on the Internet with additional information specifically about the subject, which has drawn concern.
4.      A subsection may be added about the subject on the Books page if there are books readily available about the group, topic or leader online.
Some groups such as Scientology, the Unification Church and Falun Gong have large individual subsections, while other groups may only be briefly mentioned and/or have a small subsection that contains a very limited amount of material.
However, the mention and/or inclusion of a group or leader within the archive does not necessarily define that group as a "cult" and/or an individual mentioned as either destructive and/or harmful. Instead, such inclusion simply reflects, that archived articles and/or research about the group/leader is available.
A disclaimer explaining this explicitly is linked throughout the Internet archives from every page.
Nevertheless RI has been subjected to ongoing harassment through frivolous lawsuits filed in an apparent attempt to eliminate from the Internet whatever criticism may be contained within its substantial database.
The lawsuits filed against RI over the past few years afford a window into the world of groups called "cults," operating within the United States.
Lawsuits
There have been five lawsuits filed against me personally and/or RI.
This type of lawsuit, typically accusing me and/or the institute of defamation and related torts, is known in various American jurisdictions as a SLAPP suit (Strategic Lawsuit Against Public Participation) brought to court not for its merits, but for the specific purpose of silencing a critic, often one who may not have the financial resources for a defense.
Church of Immortal Consciousness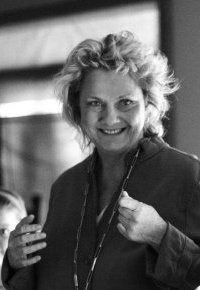 "The Church of Immortal Consciousness" located in Arizona is led by Steven and Trina Kamp (photo right). Ms. Kamp claims that she is "an unconscious trance medium" and that a spirit speaks exclusively through her body. This spirit, which imbues Ms. Kamp with special authority over her followers, is known as "Dr. Duran" and the doctor's "spiritual teaching and communication" define the group and form its basis of belief.
I have received very serious complaints over the years from former members of this group, alleging that the Kamps controlled, exploited and hurt them. In 1995 during a lecture at Arizona State University and also through a local television news interview in Phoenix, I identified the Church of Immortal Consciousness as a "destructive cult."
The Kamps promptly filed a lawsuit against me for "defamation" claiming damages. The trial court dismissed the lawsuit in 1999. I was awarded taxable costs. And a subsequent appeal by the church was denied.
One of the largest law firms in Arizona at the time, Brown & Bain, represented me throughout the Church of Immortal Consciousness litigation at no charge "pro bono." My specific attorneys at Brown & Bain were Paul Eckstein and Daniel Barr.
Pro bono publico (shortened to pro bono) is a Latin phrase meaning "for the public good." The term is generally used to describe professional work undertaken voluntarily and without payment as a public service.
Pure Bride Ministries
"Pure Bride Ministries" is an independent Pentecostal group in Florida led by the Rev. Judy Hammond. Ms. Hammond has no accountability through any denomination and/or significant oversight through a governing body. Rev. Hammond holds herself out as the ultimate spiritual authority for her relatively small flock of believers.
During the 1990s I received and reviewed numerous complaints about the group and was retained to evaluate Pure Bride Ministries for the purpose of a custody hearing in court. This involved a married couple purportedly estranged by the influence of Rev. Hammond.
Ultimately, my client, the husband, was awarded custody of his minor children.
Pure Brides Ministry was initially listed at culteducation.com within a section titled "Other Groups," on file, but without material archived and available online at the Web site.
Again, RI was represented pro bono, this time by prominent Florida attorney Robert Rivas, who later became a member of the Ross Institute's advisory board.
Subsequent to the press exposure related to the litigation Ms. Hammond and her followers left Florida.
NXIVM
A company called "Executive Success Programs" (ESP) now known as NXIVM (pronounced nexium) led by Keith Raniere in Albany, New York, filed a lawsuit against the Ross Institute in 2003.
NXIVM sells self-improvement courses, including a 16-day "Intensive," which has been compared to thought reform commonly called "brainwashing."
In 2004 a devotee of the group committed suicide. Her suicide note read in part, "I attended a course called Executive Success Programs based out of Anchorage, AK, and Albany, NY. I was brainwashed and my emotional center of the brain was killed/turned off. I still have feeling in my external skin, but my internal organs are rotting. Please contact my parents … if you find me or this note. I am sorry life; I didn't know I was already dead."
RI published three critical professional reports regarding NXIVM training, one by a forensic psychiatrist John Hochman of Los Angeles and two by clinical psychologist Paul Martin of Ohio, one analyzing the company generally and another about how the criteria of thought reform might potentially be relevant to ESP/NXIVM training. 
Both the psychologist and psychiatrist quoted sections of a NXIVM course manual for the purpose of reviewing the techniques used by the company in its training.
NXIVM alleged copyright infringement amongst other claims, insisting that the doctors had no right to quote its materials and that the reports misled readers into thinking of the Executive Success program as a "cult."
NXIVM filed for emergency relief through an injunction, requesting that the offending reports be immediately removed from the Internet archives.
A New York federal court denied the motion for preliminary injunctive relief made by NXIVM on the grounds that the quotations used by the doctors in their critiques of the course constituted what is called "fair use."
In 2004 the U.S. Court of Appeals for the Second Circuit affirmed that ruling on appeal and the United States Supreme Court refused to review the case. The decision read, "in order to do the research and analysis necessary to support their critical commentary, it was reasonably necessary for defendants to quote liberally from NXIVM's manual."
NXIVM then filed an amended complaint, parts of which the court dismissed; litigation in this matter currently continues as of this year.
During the course of this litigation it was discovered that NXIVM hired a private investigation company, which illegally obtained my personal banking and private phone records. RI then filed a counter-suit against both the investigation firm and NXIVM.
RI has received pro bono legal assistance in the NXIVM case from attorneys Douglas M. Brooks of Massachusetts, Thomas F. Gleason of New York, Peter Skolnik, Michael Norwick and Tom Dolan of the New Jersey law firm of Lowenstein Sandler, Public Citizen of Washington D.C. and the Berkman Center of Harvard University.
The NXIVM court decisions as cited by law journals effectively expanded free speech through the Internet by establishing new legal precedents.
Attorney Douglas Brooks subsequently became a member of RI's advisory board.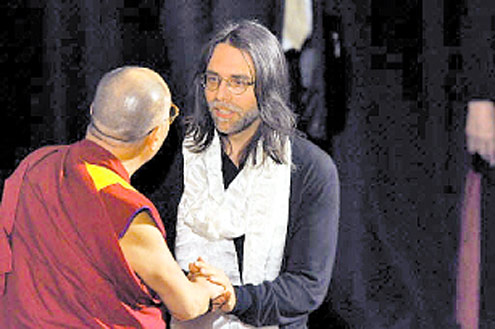 Interestingly, the exiled Dalai Lama of Tibet has supported both NXIVM and its founder Keith Raniere. In a personal appearance in Albany, New York the religious leader awarded Raniere a scarf (photo above) of honor along with two of his disciples, both heiresses to the Seagram Liquor fortune.
The Albany Times-Union reported that NXIVM devotees traveled to India to visit the Dalai Lama, in an effort to convince him to come to Albany as their "honored guest."  A spokesperson for the religious leader told the press that the Dalai Lama's commitment "to supporting the expression of worthy ideals" prompted him to agree to an appearance in Albany." When questioned about any financial incentive connected to the visit the Dalai Lama's spokesperson said that whatever money was received would be "used for charitable and other purposes as per His Holiness' guidance."
This is not the first time that the Dalai Lama has supported a purported "cult" leader.
Chizuo Matsumoto known to his followers as "Shoko Asahara" founder of Aum, the Japanese cult responsible for gassing the Tokyo subway system in 1995 reportedly donated $1.2 million dollars to the religious leader and subsequently seemed to be rewarded through several high-level meetings and photo opportunities with the Dalai Lama.
Gentle Wind Project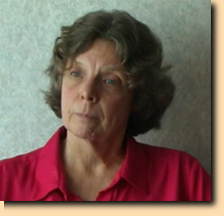 The "Gentle Wind Project," led by John and Mary Miller (photo right) of Kittery, Maine, sued RI in 2004.
The Millers claimed within paid advertising that they had created special "instruments," which represent "a new technology that employs scientific principles from classical acupuncture and Tibetan medicine¦designed to offer home users and health care professionals a user-friendly, drug-free option that may produce relaxation and cleansing of the acupuncture meridian system."
Former members of Gentle Wind "alleged in postings to a Web site that the organization was involved in group sex, mind control, extortion, child neglect and misappropriation of funds" as reported by the Portsmouth Herald.
RI included a link at its "Links" page the former members' Web site.
When RI refused to remove that link per Gentle Wind's demands the group filed a lawsuit. This suit was dismissed later the same year.
But as a direct result of the press attention the group received related to the litigation filed against former members, RI and others the Attorney General of Maine began an investigation.
The attorney general ultimately filed suit against Gentle Wind Project, alleging 13 violations of the state's Unfair Trade Practices Act.
"The instruments were sold to consumers via (Gentle Wind's) Web site and through seminars' for requested donations' of often hundreds or thousands of dollars," read a statement from the attorney general's office. "The research that (the group) claimed to have done on the instruments does not support their alleged benefits."
John and Mary Miller were found liable and paid civil penalties of $20,000 and agreed to pay $30,000 to the attorney general's office for the cost of the investigation and attorney's fees.
Massachusetts attorney Douglas Brooks assisted by local counsel William H. Leete Jr. of Portland, Maine represented the Ross Institute pro bono in this litigation.
Landmark Education
In 2004 Landmark Education, another private for-profit company similar to NXIVM, which sells self-improvement seminars, filed a lawsuit against RI for "product disparagement."
Landmark claimed damages of $1 million dollars. 
This company has historically been widely and publicly criticized by many former participants, researchers and the press for using methods that are described as "bullying," "harassing," "destructive," and "potentially dangerous."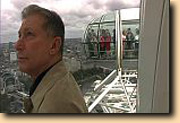 Landmark Education, originally known as EST (Erhard Seminars Training) during the 1970s, initiates its participants through a weekend seminar known as the Forum. Werner Erhard (also known as "Jack" Rosenberg photo left) created the Forum.  Erhard's sister and brother now run the company, which has branches throughout the United States and around the world.
Landmark purportedly has "58 offices in 28 countries" including both Singapore and Bangkok.
In 1977 an article in the New York Times reported about persons that "developed severe disturbance" after taking EST seminars. Psychiatrists, writing for the American Journal of Psychiatry initially reported these cases. Those examined "developed psychotic reactions, some of them life-threatening, at the time or soon after the training."
Many persons have also complained that Landmark uses inappropriately aggressive recruiting techniques, and intimidates participants who wish to leave the program. 
RI has received such complaints and critical news articles have been archived as well as negative comments about Landmark, EST and the Forum posted by users of the institute's public message board.
In an effort to suppress such unfavorable information, Landmark has historically used litigation and threats of litigation as a tool to silence its critics. 
Landmark apparently sued RI largely because the search engine, Google, which ranks web sites by popularity, lists the RI archives on the first page of search results for "Landmark Education." Thus, anyone seeking information about Landmark's programs could easily access both the information provided at the company's Web site, as well as the critical information archived by the Ross Institute.
After Landmark's legal effort to uncover the identities of those posting critical comments anonymously about its practices on the message board was rebuffed by a federal judge, the company learned that all discovery made through the lawsuit by the defendant about its past litigation and settlements might potentially become part of the court public record.
Landmark subsequently sought to dismiss its own lawsuit.
Lawyers Peter L. Skolnik and Michael A. Norwick of the law firm Lowenstein Sandler in Roseland, New Jersey represented the Ross Institute pro bono regarding this litigation.
As can be seen from this list of litigation free speech in the United States can potentially become quite expensive.
However, with the help of dedicated pro bono attorneys over the years RI has prevailed, expanded its archives and legal precedents regarding free speech on the Internet.