By Gina Catena
Oprah Winfrey's televised visit to Maharishi Vedic City's [Transcendental Meditation (TM)] pandit compound provided an opportune excuse for a drive to the pandit compound during my recent visit to Fairfield, Iowa.
Oprah's pandit visit is summarized in this short video clip.
As I drive north of Fairfield on Highway One, in less than one mile I follow the highway's directional arrow left on Airport Rd toward Maharishi Vedic City.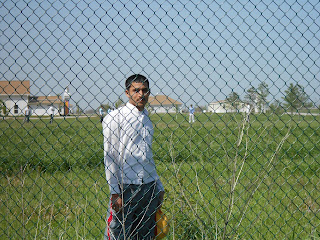 Following the arrow due west 2 miles on Airport Rd / 180th Street, I drive through open farmland and pass a few vedic houses, identifiable by uniform east facing entrances with strange roof ornaments, and Fairfield's small airport where Fairfield's TM-wealthy house private airplanes and a leer jet or two. Two miles west of Highway One's turn off, I arrive at an empty country intersection for Jasmine Ave, the beginning of Vedic City.
Turning right, or north, onto Jasmine Ave I pass the turn to a few residences and the flagged Capital building for the Global Country of World Peace whose annual revenue, as a registered non profit agency, is in the range of $19 million,
And the entry sign for Maharishi Vedic Observatory, enhanced with bullet holes to document the sign's dual purpose for both vedic marker and target practice.
I stop briefly at Vedic City's central information desk in The Raj spa which features costly Maharishi Ayurvedic treatments (more about visiting the "Observatory" and "The Raj" in another essay).
Exiting the Raj's tree-lined entry drive,I return to two-lane Jasmine Ave heading north as I pass farmland to my right and a few "Vedic" buildings on the left.
I turn left, or west, onto 170th Avenue's country road along Vedic City's perimeter. After passing a few Vedic housing developments that are evidently slow on sales, I arrive to the lauded luxury Rukmapura Park Hotel's gravel entry.
Almost directly across from the most elegant hotel of Fairfield or Vedic City lies the fenced "Invincible America Campus", or pandit compound, with rows of white prefabricated buildings capped with golden ornaments, called kalashes, to maximize each building's spiritual energy.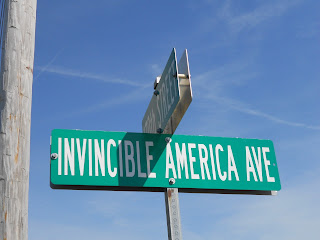 An uniformed visitor could possibly mistake the pandit compound for an agri-business, but not for long.
"Women are not allowed past that fence. Actually, no one is allowed unless they have special permission and an escort. You can stand at the edge of this fence to take photos." The friendly guard informs me from the simple wooden guardshack at the entrance to Vedic City's pandit compound only a few miles north of Jefferson County's courthouse in Fairfield, Iowa.
The guard sits alone or with one other at the fenced compound's gate, surrounded by otherwise open farmland and a large torquoise sky. Maybe the job is boring or perhaps he enjoys sitting in the quiet countryside and reading.

I'm relieved that the friendly guard in khakis, a light plaid shirt and clip-on security badge is happy to chat. I hope this essay does not jeopardize his employment.  
"Since I can't enter, may I walk along that road between the fences, still outside the pandit compound?" I ask while pointing to the moat-like dirt road separating the compound from the parking lot where we stand. 
"Nope." he responds. "Private property. You can take pictures from this parking lot fence." He extends his arm indicating the fence encircling the small gravel parking area.
I retort with a smile, "But Oprah filmed inside."
The guard laughs, "But you're not Oprah."
"True enough." I wink and continue, "Maharishi always gave extra benies to the wealthy. It's about public relations and donations. Too bad I don't have a zoom lens."
The guard observes from his small shack while I walk freely in the fenced gravel parking lot, clicking photos with my red point-and-shoot camera across double fences to the pandits.
Pandits play baseball on a seemingly unmarked grass field. 
Three Indians in white gauze kurtas notice me. They walk closer to sit under a tree near the fence, watching the guard talk with me. They remind me of captive animals in a zoo who had watched my children and me from behind fences. I wave. The pandits wave back.
Two beige former school buses parked beside the drive marked "Residents Only Private Drive" remind me of childrens' summer camp transportation. The guard informs me that buses transport pandits for occasional special performances at Maharishi University's Golden Domes or elsewhere, to return the same day.
Between snapping photos and chatting about the weather, I introduce myself.
"I just saw Oprah's show and found this fascinating since I used to live here. I graduated from Fairfield High School 1975 as the first 'Ru to graduate from Fairfield High, before MIU began their high school here.

('Ru is slang term awarded by Fairfield residents to the meditators who invaded their town in 1974, shortened from Iowa-accented GuRUuuu. MIU, Maharishi International University, later became MUM, or Maharishi University of Management)
Seeking commonality, the guard names some high school classmates from his graduating class a few years before mine.
After thinking a moment, I respond. "No, I don't remember them. I only attended FHS for my senior year; that's when we moved here. You and your friends were out of school by then, so I didn't meet them. I remember Myron Gookin who is now Iowa's local District Court judge. Myron was either our senior class president or the student body president. I think his family lived on North Main Street at the time, in a meticulous yellow house if I remember correctly. They moved to the other side of town after the 'Rus took over that end of town. I arrived with the first group that came here with MIU from California. My mother was an MIU Student. I fell in love with Iowa, but the old Parsons campus was such a mess!"
"I remember." he smiles and nods.
We laugh together while sharing memories of 1974's awkward campus BBQ welcoming MIU's arrival to Fairfield, when skinny vegetarian MIU students refused to eat barbequed pork donated by local farmers.
I add, "I always loved Iowa. My children were born here. My daughter attended Pence elementary school on the south side of town," thereby implying that I was not a die-hard 'Ru, since my own children attended a local public school rather than MSAE, Maharishi School of the Age of Enlightenment. "Eventually I couldn't take it and moved away."
The guard nods, then begins to open up. "There are 850 pandits here now. The Movement plans to have 1200 to keep the numbers here up for when dome numbers drop. They keep saying more will arrive soon," referring to Maharishi's plan for a specified number of (TM-Sidhi) Program participants for the ever-promised "Super Radiance effect"  that would magically create World Peace.
"There are 88 buildings now and expanding." He points to one building with an orange and purple entry, "That's their Durga, or temple. The white entrance by a larger building is the administrative building. The large gymnasium is in back. Another building is the meditation building. All their needs are provided for."
He suddenly sounds scripted, "They meditate, have food, study and exercise time. They study Sanskrit and Vedic scriptures. You can see they're playing baseball now." He nods to the ball game before us, speaking as though this is normal. "A clinic will be coming to take care of their medical needs." he adds.
"They visit local doctors and the hospital now?" I ask.
"Usually. But there's a doctor who comes to see them out here sometimes."
"Have there been cases of tuberculosis or other infectious diseases?"
"I wouldn't know." He shrugs.
"I'm in the medical field. It's good they provide medical care. This is impressive."
I wonder if the TM Organization is building a private clinic to avoid alerting public health authoritites, or if the clinic merely provides a cost-saving convenience.
We stand quietly looking at the compound and pandit baseball game for a few minutes in the Iowa sun. Not sure what to say next, "Where does the money come for all this?" I ask.
The guard shrugs, shaking his head,  "I'm not part of the Movement."
He points to his left, behind the guard shack, past open fields to a few rows of distant rectangular yellow buildings.
"American pandit-types live there. I forgot what they're called."
"Purusha?" I ask,
"Yes. Purusha. Some Mother Divine women live near them. But most of the women are in New York or North Carolina.  Purusha men are sometimes allowed to attend pandit ceremonies. They once allowed a couple of Mother Divine women to attend a pandit ceremony, but apparently it became a scene. Women are too distracting for the pandits. So no more females." After a moment, guard adds, "There's no problem with Purusha men and Mother Divine woman living nearby. "
"I wonder how the pandits controlled themselves when Oprah visited." I say.
The guard laughs.
After taking my few photos, I thank the guard and drive away, wishing I had better planned my questions.
Stopping briefly along the side the compound to photograph the street sign for "Vedic America Drive", one pandit approaches me.
A moat-like ditch filled with knee-high prickly weeds deters me from getting close enough to the fence to talk comfortably. I wish I wore different shoes.
I wave "Hello" to the lone pandit.
He returns my greeting.
"It's a beautiful day!" I call to him from the roadside, standing beside my car.
"Yes" he agrees.
"How are you today?"
"Fine."
"How long have you lived here?" 
"One hour," he reponds while wobbling his head side to side, Indian style.
 I realize he does not understand. I speak more slowly.

"How many years you here?"
"Two years."
"Are you happy?"
"Yes." He wobbles his head.
"May I please take your photo?" I hold up my camera.
"No." he turns to walk away from the fence, then quickly returns. "OK."
I snap his photo while the guard watches us from his perch.
"I have to go now." We wave good bye.
Note: Gina Catena co-moderates a blog about TM Movement and TM recovery : TMFree.blogspot.com
Gina's personal blog : comingtolifestories.com