By Brian Birmingham
Following my interview with Sawyer, a former member of the Heaven's Gate cult, I interviewed a man named Steven Hill, who is also a former member of Heaven's Gate.
Steven Hill was the husband of Yvonne McCurdy-Hill (known as Dvvody in the group). Yvonne McCurdy-Hill and her husband joined Heaven's Gate together in the fall of 1996. Steven Hill left the group after just one month. But the cult destroyed his family and scarred Hill's life forever.
His wife Yvonne remained with the group and ultimately died with them. She was identified as one of the thirty-nine bodies found March of 1997 inside a Rancho Sante Fe mansion, which was the cult's last home.
At the time of her death, Yvonne McCurdy-Hill was the most junior member of the group. She spent a little less than six months as a cult member.
There were two questions I wanted to ask Steven Hill.
First, could he corroborate what Sawyer said about minor children recruited and hidden by the group back in the 1970s.
Second, did he have any idea that the group was planning on dying together to make their "exit" to "The Next Level"? And if he DID know what they were planning, why didn't he try to stop them?
Steven Hill's answers to these questions is revealing.
He concurs that minor children were included within the group during the 1970s and that they were hidden. Hill totally corroborated Sawyer's account.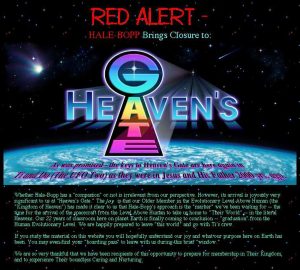 Hill also said that while he was a member of Heaven's Gate, he spent a lot of time reading in the group's library. Apparently, cult leader Marshall Applewhite liked to collect any media reports about the group over the years. Hill saw old news clippings about Ti (aka Bonnie Nettles) and Do (aka Marshall Applewhite), which included magazine articles, old flyers advertising meetings the group held and various other media that Applewhite collected. It seems that every time the cult or its leaders were somehow mentioned in the news Marshall Applewhite added it to his archives. Within the group's growing library were books about UFOs, channeling, and various other New Age-type topics. Hill specifically came across news articles that reported minor children ran away from home to join the cult and that they were subsequently hidden by the group from the authorities and their families.
Steven Hill and his wife left their newborn twin daughters behind with family when they abandoned their old lives to join the cult. Yvonne McCurdy-Hill was suffering from postpartum depression at the time she moved in with the group at Rancho Santa Fe. Hill was later asked to leave the group due to an illness. Mrs. Hill wanted to leave too. But she learned from her mother that her twins would never be returned to her custody. She ultimately concluded that without her children there was nothing meaningful left for her outside of the group.
Chuck Shramek then released the first image of the so-called "companion," which was somehow supposedly trailing the Hale-Bopp comet, through Art Bell's radio show.
When Applewhite learned about the "companion" he surmised that it was "marker," a sign that he had been waiting for to begin the planning for the "exit," which would take place four months later.
The deaths of the members of Heaven's Gate were the largest mass suicide ever on United States soil.
Steven Hill was probably out of the group by the time the "companion" to the Hale-Bopp comet was widely known about publicly.
Hill said that he was monitoring the group's website when he saw the "RED ALERT" warning, which began flashing in early 1997.
But he had no idea that the group was planning to die together.
Hill instead expected his wife to come home.
When Steven Hill learned about a mass suicide in California and realized that his wife was among the dead, his life was shattered.
And to this day Hill has no relationship whatsoever with the twin daughters, left behind when he and his wife joined the doomsday cult known as "Heaven's Gate."