Jenna Elfman may have a new television show, but the former sitcom star of Dharma and Greg is still doing her same old routine promoting the Church of Scientology.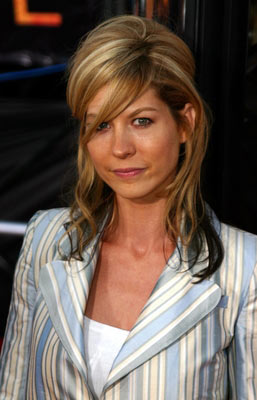 Elfman put in an appearance at a prayer breakfast in Inglewood Saturday and the invocation was done by her fearless leader, Scientology's apparent President for life Heber Jentzch.
Jentzch seems to have some juice with Los Angeles Country Sheriff Lee Baca who it appears appointed him to a slot on his "Executive Clergy Advisory Council."
Mr. Jentzch knows something about jails. He was once jailed by Spanish authorities, but later released along with other Scientologists on $1 million dollars bail.
Some years later Jentzch was cleared by a Spanish court. Perhaps this was when Scientology's peripatetic president learned about the power of prayer?
The "6th Annual Multi-Faith Prayer Breakfast" Saturday was emceed by former Lakers player John Salley and attended by local politicians including Los Angeles Mayor Antonio Villaraigosa according to a Scientology press release.
Elfman used her speaking time to pitch a program called "Criminon," which she claims assists prisoners.
Ms. Elfman has been shilling for this Scientology project for years in California seemingly trading on her celebrity status to garner support and funding for Criminon.
However, Criminon literature was banned in Britain where its efforts caused "alarm."
The program also was called "an experimental, gimmicky program that has absolutely no scientific validation for it" by Nevada Assembly Majority Leader Barbara Buckley.
It seems Elfman and her handlers at Scientology now hope that events like the recent "prayer breakfast" offer another venue for their continued efforts to gain political support and/or funding for programs like Criminon.