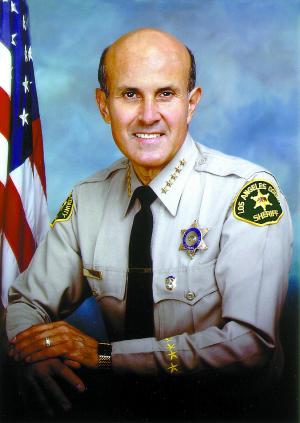 It seems like Los Angeles County Sheriff Lee Baca is becoming one of Scientology's special friends.
Not long ago Baca appointed Scientology's apparent President for life Heber Jentzch to a slot on his "Executive Clergy Advisory Council."
Then Baca "spearheaded" the "6th Annual Multi-Faith Prayer Breakfast," which included Jentzch along with Scientologist and sitcom star Jenna Elfman. The former "Dharma" gave a speech pitching a Scientology-linked program called "Criminon."
Now Baca has shown up at a special fundraiser for another Scinetology-linked project called "Youth for Human Rights International" run by Scientologist Mary Shuttleworth according to a recent press release.
The Sheriff brought his wife to the elegant "gourmet dinner for a select one hundred and twenty guests" at Scientologist and actress Anne Archer's Brentwood mansion.
The event raised $50,000, more than $400.00 per plate.
Has the Sherif become Scientology's latest "soup du jour"?