It appears that Tom Cruise continues to have significant influence over the heir to the largest fortune in Australia, which may eventually mean big bucks for Scientology.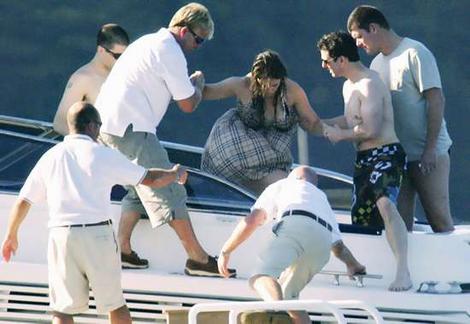 "If there is one person whom media scion James Packer knows he can rely on in a crisis, it's Hollywood star Tom Cruise" gushed the Sydney Morning Herald.
And Packer's life has been one crisis after another in recent years including an emabarrassing business failure, divorce and now his father's death, which may make him an easy mark for Scientology.
Cruise, who befriended Packer while filming The Last Samurai in New Zealand, flew down to attend the elder Packer's funeral with pregnant girlfriend Katie Holmes aboard his private jet.
Reportedly "the friends were believed to have spent [time] in seclusion" after the funeral.
So what is Scientology's "Top Gun" up to with the heir to Australia's biggest fortune?
In the past Cruise apparently persuaded Packer to attend Scientology courses and not long therefter the tycoon's son took on a Scientologist as his live-in personal assistant and tutor.
Sounds a bit like Katie Holmes and here newfound "best friend" who is also a Scientologist and probably the "mystery woman" that accompanied TomKat on their trip "down under." 
"Mr. Packer has found the man who will help coach and support him through the next phase of his life" predicted the Sydney Morning Herald.
And almost any coaching Cruise provides typically includes Scientology.
Will Packer become prey for his proselytizing friend?
James Packer has previously denied press speculation that he has become a Scientologist, but with his old buddy Tom Cruise hanging around this may easily change.