It's official; Katie Holmes has started "shilling for Scientology."
At Fox News Roger Friedman reports that he got a gift pack from the couple known as "TomKat."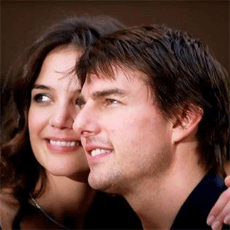 His latest "Scientology package [came] as a brightly-colored cardboard box with many inserts, including a CD and a DVD. The DVD contains a weird music video called 'United.'"
The music video includes shots of Scientology celebs Jenna Elfman, Erika Christensen, Isaac Hayes and Catherine Bell "all sort of nodding in a trance and clapping along."
Along with this updated version of Tom Cruise's old gift pack sent out last year comes the same note advising journalists that a donations have been made to Scientology in their name.
But this year the note comes from both Cruise and Katie Holmes with both their signatures.
Sorry no sonogram.
Nevertheless isn't that note something to frame and hang over a desk with pride?
Hardly.
But maybe good enough for a few laughs in a column as Friedman has done.
It seems Scientology has found a fresh new face to add to its aging lineup of middle aged Hollywood stars.
Maybe recruitment efforts are getting desperate for Scientology?
Recently the group has taken to the streets and subway tunnels in an effort to proselytize.
In California one of its branch directors was actually giving "stress tests" on the sidewalk.
Katie Holmes might just help the organization often called a "cult" market its wares more effectively to a younger audience, even though college kids and teens don't typically have enough money to buy into Scientology.