It has been observed that Scientology's most important celebrities seem to almost always have Scientologists nearby in what can be seen as constant surveillance or special handling.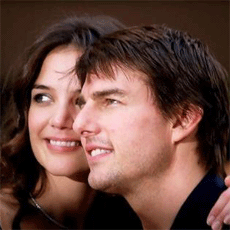 The list of heavy hitters worthy of such an effort has included the very rich Lisa Marie Presley, John Travolta, Tom Cruise, billionaire heir James Packer and most recently Katie Holmes.
A reportedly "creepy" example of this surfaced recently "down under" while Tom Cruise and Katie Holmes visited to attend the funeral of the late Kerry Packer, Australia's richest man. The couple were constantly shadowed by a "mystery" pair seen at every function that the two attended reported the Sydney Morning Herald.
Scientology's "Top Gun" has himself seemingly been stalking Australian billionaires lately, apparently hoping to land one for his controversial church. This has included heirs to both the Packer and Murdoch fortunes, the two richest families in the country.
But Cruise and Holmes appeared to be getting stalked themselves by another couple.
The female component of this probable Scientology surveillance team was likely Ms. Holmes apparent full-time handler Jessica Rodriquez, now supposedly Katie's "best friend." 
The former teen idol, whose career has gone from acting to becoming a suitable mate and child bearer for the "world's biggest movie star," may have become the Scientology version of the "Virgin Mary."
The man shadowing Mr. Cruise remains a complete mystery, but the press described him as both "weird" and "creepy."
"Every move Tom made, this guy did the same thing…When Tom stripped down to his shorts, so did he," reported the Sydney Morning Herald.
And the "mystery couple" was busy reporting information to someone.
They "carried their Blackberries everywhere, watching Tom and Katie while incessantly tapping out messages to persons unknown" reported the press.
So it seems Scientology headquarters may never be more than a text tap away when you are as important an asset as Tom Cruise.
This foursome is indeed a bit "weird" and "creepy."