It's very likely that whatever wedding and baby plans Tom Cruise is making he is thinking Scientology venues with minimum exposure and maximum control.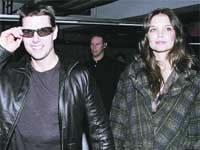 This is likely to mean either "Gold Base," a tightly controlled 500-acre Scientology compound near the town of Hemet, California or the "Freewinds," Scientology's 440-foot cruise ship based in Curacao in the Caribbean.
Cruise has already taken Holmes to the ship once to celebrate his 43rd birthday, where it is rumored he may have actually married her there already reports the New York Daily News.
Having a baby at sea might seem odd, but Scientology's "Top Gun" known for his "Cruise control" could keep an airtight grip on the expectant mother's environment, shutting out the media and paparazzi. And an intrusive fly-over by prying eyes would be quite difficult.
Gold Base is a former resort bought by Scientology when Hubbard was alive. It includes a mansion known as "The Castle" with a carriage house for VIPs. It is relatively isolated, heavily secured with surveillance cameras and regular patrols.
Both Gold and the Freewinds are virtually totally inhabited by loyal Sea Org members, described in a 1998 Italian government report as "a community with both monastic and military characteristics," which makes up Scientology's permanent, full-time hardcore staff.
Whether at sea or embedded within the church's compound out in the California desert, Katie may have her baby not only silently, but insulated and isolated from her family, old friends and anyone else outside of Scientology.