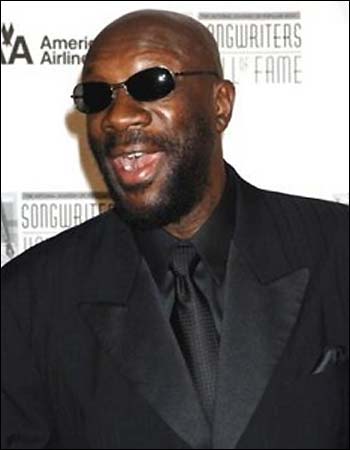 Scientologist Isaac Hayes has quit the Comedy Central show South Park where he did voiceover for the character of "Chef" for a decade. Hayes claims it's because of "intolerance and bigotry toward religious beliefs" reports the New York Daily News.
The creators of South Park are not strangers to such controversy and were quick to dispute Hayes's claims.
"This has nothing to do with intolerance and bigotry and everything to do with the fact that Isaac Hayes is a Scientologist and that we recently featured Scientology in an episode of 'South Park,' In 10 years and over 150 episodes…Isaac never had a problem with the show making fun of Christians, Muslims, Mormons and Jews. He got a sudden case of religious sensitivity when it was his religion featured on the show," South Park co-creator Matt Stone said in a prepared statement.
However the timing of Hayes announcement seems just a little too convenient.
He chose to come out against "intolerance and bigotry" just before the episode "Trapped in the Closet," which blasts Scientology and ridicules its leading celebrities Tom Cruise and John Travolta is scheduled to repeat tomorrow night.
It seems that Scientology and/or Tom Cruise have apparently managed to keep the show from airing in some venues internationally through threats of litigation.
Were there talks to keep it from repeating in the United States this week?
Is Scientology and Hayes now striking back preemptively through the press because they failed to get the show pulled?
South Park made its reputation from the start featuring parody of religious icons, such as its send-up of Jesus and Santa locked in a Christmas "death match."
Stone says that Hayes had "no problem " and he's cashed plenty of checks " with our show making fun of Christians" reported Fox News.
The irreverent hit show has lampooned virtually anyone and everyone, but Isaac Hayes suddenly had enough when it gored his "sacred cow."
South Park co-creator Trey Parker said "never heard a peep out of Isaac in any way until we did Scientology. He wants a different standard for religions other than his own, and to me, that is where intolerance and bigotry begin" reported Associated Press.
Scientology has a history of seemingly using its stars in such situations like pawns in press games when it feels attacked. And it appears that Scientology feels attacked by almost anything less than an infomercial.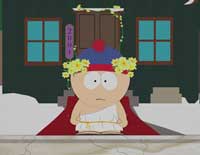 South Park joked about Scientology beliefs within its top rated episode, including an article of faith about aliens from outer space, which is supposedly one cause of humanity's problems according to its founder L. Ron Hubbard.
The church has no sense of humor when it comes to Hubbard and its members are expected to pay for such revelations that are offered at a price through its "religious services." Scientology probably didn't like South Park giving away its sacred secrets for free.
Isaac Hayes was bankrupted and his glory days as a star in Hollywood were well behind him when he became a believer in Scientology. An Oscar-winner for the musical theme of "Shaft" in the 1970s he took up residence for a time within Scientology's Celebrity Center in Los Angeles. Since then Hayes experienced something of a career resurrection and South Park played a pivotal role in his comeback. 
Apparently now it's payback time and Hayes seems more concerned about his perceived debt to Scientology than whatever career success he owes to Parker, Stone and Comedy Central, who provided him with paychecks for so many years. 
Maybe the 63-year-old voice of "Chef" thinks he has gotten enough out of South Park, after all he probably still has residuals for his retirement.
But it seems very unlikely that Isaac Hayes will ever get another gig that good again.
"Of course, we will release Isaac from his contract and we wish him well," said Matt Stone.