CultNews reported last month how a former truck driver in California that calls himself "Buddha Maitreya" got mad when some monks he hosted from Tibet wouldn't recognize that preposterous title.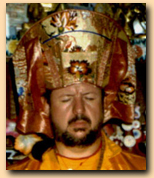 Ronald Lloyd Spencer's "Church of Shambala," which has been called a "cult," sponsored seven monks to make the journey to America. However, it seems when the monks refused to recognize Spencer as the reincarnation of "Buddha" the church "abruptly withdrew its support, their religious visas were revoked and a dozen immigration officers in riot gear showed up to arrest them…"
After the negative fallout from this it seems a legal settlement was struck between the would-be "Buddha" and the mistreated monks.
According to a document dated March 9th and recently forwarded to CultNews that settlement not surprisingly includes what is commonly called a "gag order."
It states, "In the interest of settlement of all differences, legal disputes, claims and causes of action, the parties, including their legal representatives, agree not to have any further contact with the media, which includes newspaper, television, radio and internet websites, or any other media form for the purpose of discussing any issue of the Monks and the Church of Shambala and the dispute regarding the visa revocation…"
It concludes, "The Church of Shambala and the Monks recognize that there are differing accounts of the events leading up to the arrest of the Monks and thereafter but wish no further reporting on this matter…"
Well, it looks like the monks got a good lawyer and Ron Spencer wants everyone kept quiet. 
Daniel Honeywell, Spencer's disciple and representative, said that the document he forwarded via email to CultNews was supposedly "self-explanatory" and "flows from" an article previously published by the New York Times.
Hopefully, what "flows from" all this is that the monks were well provided for and traveled back to their native land peacefully and in comfort. Though the matter might have been concluded better if Spencer and his church offered them a public apology.
But despite the settlement, which essentially silences the monks on the matter, this self-proclaimed "Buddha" has been busted as an egotist and certainly less than hospitable host to say the least. 
CultNews thinks it will require virtually endless reincarnations according to Buddhism before someone like Ron Spencer ever reaches spiritual maturity.