Maharishi Mahesh Yogi wants the world to know that he has a system for "invincible defense," but the guru's plan somehow doesn't work at his own school in Iowa.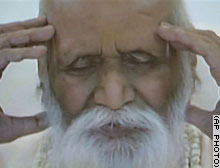 The former spiritual mentor to the Beatles says his plan "calls for establishing in each nation a small group of Yogic Flyers who will enliven Total Natural Law"the light of God"and create a high level of integrated collective consciousness" This will then become "the basis [for]…permanent peace on earth," according to a recent press release from the "Global Country of World Peace."
The guru also claims that his "technologies" create an "all-powerful field of invincibility" that will "make any nation invincible."
So why didn't this supposedly technological achievement work at Maharishi University of Management (MUM) in Fairfield, Iowa?
One former MUM enrollee and the family of another who was killed in a stabbing on the school campus in 2004 have filed seperate lawsuits in U.S. District Court. The plaintiff's allege that MUM was "negligent" and failed to protect its pupils from the rampage of a student known to be violent reports the Des Moines Register.
Maharishi claims that if governments will just support and subsidize his proposed "all-powerful field" no nation need "sacrifice its youth" in war.
However, according to the recently filed federal lawsuits a youth at MUM was sacrificed needlessly and no "all-powerful field" protected him from a crazed killer.
And what about that murderer, who was once a deeply devoted disciple of Maharishi? Why didn't the guru's teachings help him?
MUM student Shuvender Sem, 26, was found not guilty of murder by reason of insanity and has since been committed to an Iowa institution for the mentally ill.

This is hardly a ringing endorsement for Maharishi's "unified field," which somehow must have short-circuited when it came to making Sem peaceful.
Maybe before preaching peace plans to the world Maharishi should test them out first at his own schools and see if they work, before hoping to sell them to others.
Or doesn't his much-touted "Transcendental Meditation" bring about inner peace to the guru's own devoted followers?
And if it doesn't work for them why should it work for anyone else?
Instead of the guru's "Yogic Flyers" attempting to "enliven Total Natural Law" worldwide, perhaps they should try calming down a couple of hundred acres at MUM first, or at least circle its campus periodically to provide better security for the students