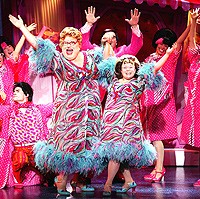 John Travolta has been cast to play Edna Turnblad for the new film version of Hairspray, which is based upon the hit Broadway musical. This latest incarnation of the John Waters creation is scheduled for release in Britain during 2007 reports the London Evening Standard.
Hairspray has an interesting history. Following in the footsteps of the Broadway smash hit The Producers by Mel Brooks, it was first a "cult movie," then successfully adapted for Broadway and now it's being made again into a movie.
Travolta is certainly an interesting and sure to be controversial choice for the role of Ms. Edna, a part made popular by two gay actors. First, actor Glen Milstead known to his fans as "Divine" played Edna Turnblad. He became a "cult film" star through recurring roles in movies beginning with the "cult classic" Pink Flamingos made by gay director John Waters. Divine died shortly after the release of the original Hairspray in 1988.The second Ms. Edna was Harvey Fierstein, an outspoken gay activist, that won the Tony for his much praised Broadway performance.
But now comes John Travolta, rumored for years to be a "closeted" gay actor. Likely to become perhaps even more controversial is this star's long-standing devotion to Scientology, a religion founded by a man many regarded as "homophobic."
According to L. Ron Hubbard Scientology's founder gays "should be taken from…society as rapidly as possible" because "no social order will survive which does not remove these people from its midst" reported Rolling Stone.
But if Hubbard had historically had his way there would be no John Waters films in America and no gay actors to play the part of Edna Turnblad, which would of course leave Mr. Travolta with no new character role. And it's doubtful that Scientology's savior would find anything appealing about Travolta dressed in drag as Edna Turnblad.
Hubbard instead was known for not so flattering "sendups of effeminate homosexuals" within his Sci-fi writings.
Yet there have been persistent rumors regarding an alleged Scientology penchant for "bearding" or helping to disguise its celebrity gay members.
Shortly after tabloid press stories began to circulate about John Travolta's supposed homosexual affairs; he was married to Scientologist and actress Kelly Preston. And not long after Michael Jackson was first accused of molesting little boys, he married Scientologist Lisa Marie Presley.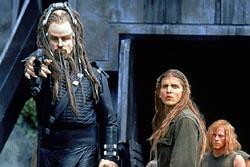 The rumored secret lives of Scientology stars was recently lampooned in the South Park episode "Trapped in the Closet," in which both John Travolta and Tom Cruise were ridiculed and inferred to be secretly gay.
John Travolta's career has not been going that well since his role as a space alien in the box office bomb Battlefield Earth, which was based upon a book by his hero Hubbard. According to a press report the 52-year-old actor "was desperate for the role" in Hairspray.
What will fans of Hairspray and John Waters think of the recent casting announcements?
Queen Latifah has been cast as "Motormouth Maybelle," another prominent role in the same film, which is likely to generate a positive buzz, but it seems unlikely that Travolta can do the same.
The character of Edna Turnblad, as played by Divine and Fierstein, is after all about being proud of who you are and taking a stand about it.
However, other than standing up for Scientology and praising its founder L. Ron Hubbard, Mr. Travolta doesn't appear to stand for much.
The former "Vinnie Barbarino" of the TV sitcom Welcome Back Kotter and star of Grease may be "desperate" to repackage and market himself as a comic actor, but will Hairspray fans be desperate enough to buy it?