It seems that Scientology and Tom Cruise have finished the first phase of Katie Holmes' education/evolution. Apparently the initial indoctrination process is done and her recently reported planned name change may signal that the Scientology version, or "new and improved Kate," is ready to emerge.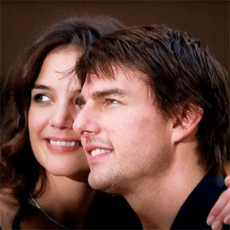 Holmes says that "Kate" sounds more "mature."
Of course like virtually everything in her new life there was input from Tom Cruise who has frequently referred to his wife to be number three as "Kate."
Holmes confirmed that she discussed the issue of her new name with Scientology's "Top Gun" and claimed that "Katie sounded too young for her" reported Virgin.net. 
Since becoming involved with Cruise, Holmes appears to have gone through many changes.
The former "Dawson's Creek" star went from Roman Catholic to Scientologist and it has been reported that she has spent eight hours a day inside Scientology's Los Angeles Celebrity Center. A purported Scientology staffer Jessica Feshbach Rodriguez is her new "best friend" and seemingly has shadowed the 27-year-old actress.
Persistent leaks to the media from family and old friends portray Holmes as increasingly isolated and out of touch since being suddenly swept up by Cruise.
Cocooned within the 43-year-old actor's Beverly Hills compound and virtually surrounded by Scientologists around the clock, "Kate" is now content to be a "stay at home mom."
Has Holmes been "brainwashed"?
The actress reportedly had been described as both "zombie-like" and a "Stepford Wife."
Researchers have observed that many so-called "cult members"  undergo rapid personality change through the indoctrination process within their respective groups. Ultimately, a reformed "cult personality" then emerges.
Has Katie Holmes been replaced by a new improved Scientology version to be called "Kate"?
Maybe her name change will provide an easy way for the star to be identified BC (before Cruise) as "Katie" or AC (after Cruise) as "Kate."
Then again, it could be that Tom Cruise just prefers short easy to say names?
He once called his second wife Nicole Kidman "Nic."
However, the Oscar-winning actress dramatically rejected becoming one of the completed "Stepford Wives," and dumped Scientology in real life.