As if Whitney Houston didn't have enough problems, she has apparently continued her involvement with a group often called a "cult." The fallen star reportedly sought help from the "Black Hebrews" as recently as two months ago.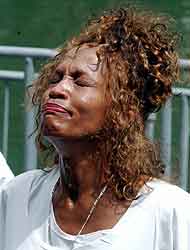 "Friends hoped she had reformed thanks to a 'spiritual adviser' and her renewed links to a controversial religious sect" reports the Herald Sun.
But is it wise for Houston's friends to hope her crack habit can be cured by a cult?
Certainly there are more credible options, such as a hospital treatment program.
Houston and husband Bobby Brown first hooked up with the so-called "Black Hebrews" in 2003 on a trip to Israel. The strange group is led by Ben Carter a former Chicago resident who now calls himself "Ben Ammi Ben Israel"
Carter claims that the "Archangel Gabriel told him that many African Americans were descendants of the lost Israeli tribe of Judah." He led some followers to settle in Israel during 1969, but they didn't receive permanent residence status until 2003.
The "Black Hebrews" have been linked to crime and the death of a child.
One of Carter's henchmen was found guilty of "operating an international crime ring" in 1986 and just last year a couple was charged with manslaughter. And the death of their baby was allegedly tied to the group's strange diet.
Does Whitney Houston really need this kind of help?
Her family has said repeatedly that the influence of Bobby Brown brought about the star's downfall.
Is the undue influence of this strange sect really going to restore reason to the former diva?
Perhaps Houston's friends should come up with something better than a choice between either crack or a "cult" for the troubled singer.