Wang Wenyi, the woman who captured attention last week by shrieking on the White House lawn during Chinese President Hu Jintao's speech, gained entrance to the highly secured area with an official press pass issued through the Epoch Times, reports The Statesman of India.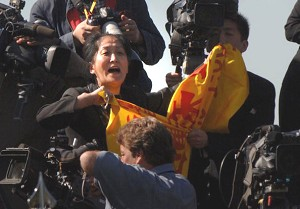 The Epoch Times can be seen as little more than a front for Falun Gong, known as an "evil cult" in China.
In its report The Statesman noted that the publication "tends to be remarkably sympathetic" to the controversial sect and "generally provides a platform to preach Falun Gong's beliefs."
Supposed news reporter Wang shouted "President Bush, stop him from persecuting the Falun Gong! Stop him from killing! Stop the torture and killings! Falun Dafa is good."
Does that sound like a question from a journalist?
In an article within the Epoch Times Wang is more accurately identified as simply a "Falun Gong practitioner."
John Nania editor in chief of the Epoch Times US editions, its Boston editor Martin Fox and the newspaper's communications director Cindy Gu are all Falun Gong devotees and followers of its controversial leader Li Hongzhi, who lives in the United States.
Typical of Falun Gong and its substantial public relations machine, the Epoch Times quickly attempted to strategically spin some distance between itself and the woman whose shrieks at the White House were compared to the screams of a "banshee."  
"Dr. Wang attended this event on Epoch Times press credentials,'' an official spokesperson for the newspaper admitted in a statement today. "However, her actions¦ were her own. In protesting in this manner, she did not act on behalf of The Epoch Times" quoted the Chicago Tribune.
It seems whenever Hongzhi's followers engage in fanatical behavior some sort of spin control takes place affording the man called "master" and his disciples plausible denial or at least a little wiggle room.
However, Wang's hysterical outburst at the White House can be seen as little more than a carefully staged and scripted climax capping a culmination of stories she wrote run within the Epoch Times regarding Chinese labor camps and alleged "organ harvesting in China's labor camps."
Chinese officials have repeatedly characterized such sensational claims as "sheer lies."
Falun Gong's repeated claims about its followers being cremated after their organs were taken have included photos of a supposed crematorium. But this was later exposed as a window-paned boiler house with a brick chimney in a civilian-use facility in the Chinese city of Shenyang" reported Shanghai Daily. 
Western media often seems to give little scrutiny to the claims of human rights violations made by Falun Gong and its adherents, almost accepting them without question.
But despite such positive press it appears that Li Hongzhi and his followers want totally controlled coverage through their own newspaper and then stage contrived media events through "reporters" like Wang.
Falun Gong often accuses China of spreading propaganda about its practices.
But apparently the Epoch Times and its staff hope to manufacture their own brand of propaganda in an attempt to manipulatie the media, such as this latest stunt on the White House lawn.