Tom Cruise supposedly is living in a "haunted" house reports Life Style Extra.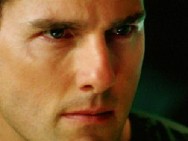 Apparently previous occupants have "experienced spooky sensations there."
Caleigh Peters, daughter of producer Jon Peters, says that she "heard noises" while living there and claims the house was "creepy."
Well, if it wasn't "creepy" before it certainly seems like it is now.
Cruise has reportedly created a kind of "cult compound" there surrounded by his faithful staff of Scientologists and his girlfriend Katie Holmes is cocooned within that controlled environment.
That would be "spooky" wouldn't it?
Meanwhile Scientology's "Top Gun" is reportedly planning an expanded compound on what he hopes will become his very own hilltop overlooking the San Fernando Valley.
It seems the star doesn't like having neighbors too close so he is trying to buy them out.
"Tom plans to spend up to $25 million on the project after agreeing to knock down one existing property and buying a second one next door" a source told Hollywood.com.
Katie Holmes may find herself an isolated mom secured within Cruise's new hilltop compound with baby Suri surrounded by Scientologists.
And the Holmes family may be shut out through "Cruise control."
Peters claims Cruise's current rental home is "full of ghosts," which may have hurried along his home building plans.
Scientologists do believe in ghosts of a sort. 
According to L. Ron Hubbard's writings the planet earth is plagued by what he called "Body Thetans" or "BTs." The spiritual residue of beings from outer space brought here millions years ago on spaceships.
Scientologists are delivered from these spirits through what they call "auditing."
Could it be that Tom Cruise's detached "BTs" have come to haunt his Beverly Hills house?
If so, perhaps he can call in some "Ghostbusters" from Scientology to clear them out.