The Scientology saga of Tom Cruise seems far from over. It appears that the next battle for the middle-aged action hero of MI-3 may take him from film to family feuds.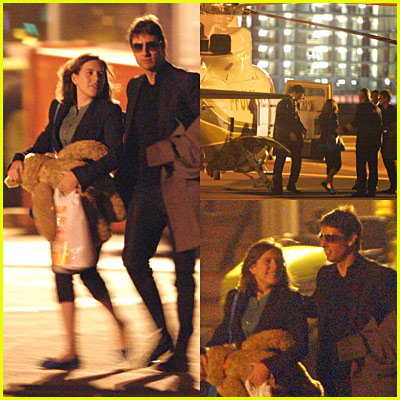 Cruise has not only arguably lost many movie fans but also apparently never really won over the family of Katie Holmes, which has been increasingly shut out of their daughter's life.
The Holmes home in Toledo, Ohio is a long way from Cruise's rented mansion in California, but that long distance gap widened further when baby Suri was born. 
Apparently the Holmes family was not invited and did not attend the blessed event. At the time the actress's parents were on the other side of the country in their Florida vacation home. They supposedly received a text message from their daughter to let them know all was well.
On yet another family front Nicole Kidman may have fond memories of her ex, but she reportedly thinks Scientology is a "sinister force."
The Oscar-winning actress, who completely abandoned Scientology after her divorce, is once again a Roman Catholic. And it seems Kidman is anxious about the influence Cruise's religion may have over their two adopted children reports the Daily Mail.
As CultNews previously reported last year Scientology's "Top Gun" has been pushing forward for the rapid indoctrination of his children Conner and Isabella Cruise. And it seems unlikely that he has any thought about discontinuing that process.
Meanwhile at the same time Scientology's "Top Gun" has been busily submerging Katie Holmes in all things Hubbard. And as that process has moved ahead the former star of "Dawson's Creek" has been described as "zombie-like" and a "Stepford Wife."
The 27-year-old actress and unwed mother's parents are reportedly unhappy about their daughter's conversion from Catholicism to Scientology.
Who and/or what will come up next in the continuing sage of Scientology's "Top Gun"?
Will Nicole Kidman be the first concerned parent to ride to the rescue of her children, or will it be the Holmes family intent upon saving their daughter and granddaughter from the "sinister force"?
"Holy Toledo"! 
The next battle facing Tom Cruise may not be at the box office after all, but instead a rather more conventional custody battle in the courts.