Father Marcial Marciel, an 86-year-old priest repeatedly accused of sexual abuse, probably thought that his age or past friendship with Pope John Paul II would protect him for the rest of his life, but he was wrong.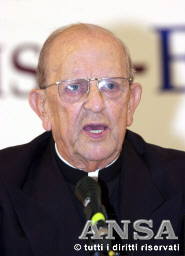 Maciel is the founder of the prominent and ultra-conservative Catholic order known as the "Legionaries of Christ" or "Regnum Christi," which includes some 650 priests. But now the Vatican has publicly disciplined the priest on grounds of sexual abuse reports The Telegraph.  
Apparently the only consideration Marciel received is that he will be spared the public humiliation of a "full church trial."
However, Marciel is "forbidden to celebrate Mass, speak in public or to the press." And in its published official statement the Vatican urged him to live "a reserved life of prayer and penance."
That "prayer and penance" is in response to complaints from about 20 Catholic seminarians that say Maciel sexually abused them when they were teenagers within the order. One such complaint came from the  former President of the United States Legionaries from 1971-76, who stated that Maciel began molesting him at the age of 12.
Though initially founded in Mexico the Legionaries of Christ has rapidly expanded its influence amongst American Catholics in recent years.
CultNews has received repeated and very serious complaints about the Legionaries from Catholic families. This has included claims that the order has isolated recruits and can be "deceptive, manipulative" and "secretive."
Parishioners of at least one Catholic Church in California became divided and experienced serious problems after the Legionaries essentially took it over.
Likewise, Catholic educators have said that when the order takes charge of schools it soon purges those that don't adhere to its strict ultra-conservative ways.
In New England an elderly man claimed the order bilked him out of much of his savings and home equity, through unethical fund-raising.
With this latest repudiation from the Vatican it seems that the Legionaries of Christ has always been deeply troubled, and from the top down. And its very foundation has now been shaken by the Vatican's recognition of its founder's serious sins.
Despite this though, neither Marciel or his followers have ever accepted responsibility for the sinful acts tacitly now acknowledged by the Vatican. Instead, the priest and his disciples have repeatedly denied everything, refusing to even admit that anything ever happened or apologize to anyone.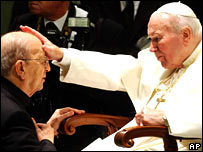 In response to the recent Vatican ruling the Legionaries offered a not so cryptic response. It says that Marciel accepts the Vatican pronouncement "with faith, complete serenity and tranquillity of conscience, knowing that it is a new cross that God has allowed him to suffer."
"God has allowed him to suffer"?
It sounds as if the Legionaries think that somehow Marciel is working on becoming a saint.
What about all the suffering of his victims?
"Serenity and tranquility of conscience"?
What kind of "conscience" does Marciel have that permits him such "serenity" after so many sins?
The statement appears rather arrogant and unrepentant to say the least.
It seems that the Legionaries of Christ will continue to ignore the facts and defend the indefensible.
Meanwhile the Vatican has by necessity correctly recognized it cannot afford to remain silent regarding any predatory priest. And it has taken action that was long overdue in response to the cross suffered by Marciel's victims.