Scientology's "Top Gun" continues to zealously proselytize for his church and the latest Hollywood star he seemingly targeted was Angelina Jolie reports National Ledger.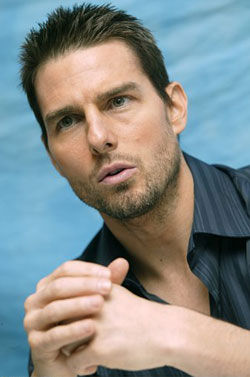 Cruise phoned up Brad Pitt and Jolie while the couple was in Africa to congratulate them both on the birth of their baby, but it wasn't long before Cruise the persistent missionary man began using his long distance minutes for Scientology.
The man once touted as the "world's greatest movie star," but now not selling so good, reportedly urged Jolie to stop by Scientology HQ to pick up an award for her charity work.
But the former Tomb Raider made it clear that wasn't an artifact she was interested in.
"There's always a method to Tom's madness," said one source. And that "method" always seems to lead back to Scientology.
Apparently Cruise didn't bother to consider Brad Pitt's past personal history regarding the controversial church many consider a "cult."
Hollywood buzz has it that the star of Troy dumped an old girlfriend Juliette Lewis over her involvement with Scientology, so Pitt probably isn't interested in towing that "Trojan Horse" back into his life again.
Tom Cruise has reportedly agreed to pay Katie Holmes three or four million dollars annually to be his wife. Not a bad gig, if Holmes and her family can put up with the star's antics and continuing religious crusade.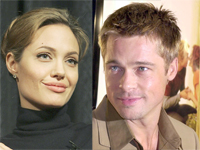 Meanwhile the last Mrs. Cruise, Nicole Kidman, is going through her own religious epiphany. But it's not about Scientology and its belief in spaceships that brought aliens from outer space to ultimately haunt the earth. Instead, the Oscar-winning actress has returned to her spiritual roots within the Roman Catholic Church reported Catholic Online.
This is the second time it seems that an ex-wife of Cruise's has dropped out of Scientology. Wife number one, Mimi Rogers, has apparently lost interest in Scientology too.
Not only have Cruise's "days of thunder" at the box office perhaps passed, he isn't really that good in his role of missionary man either.